I always told you, in the wonderful world of finance; we are dreamers. There are very few people on planet Earth who can look ahead and see as far as investment experts and Wall Street stars. This ability to directly analyze multiple stories and draw accurate and – in most cases – accurate conclusions within minutes never ceases to amaze me. Yesterday we were able to demonstrate our above average skills again by killing the market and oil due to the impending recession and managed to reverse the market because the recession lowers rates.
Audio recording from July 6, 2022
Download the podcast
Less equal than others
So yes, we didn't manage to do everything at the same time and in the same second. So there had to be collateral damage. In the particular case that concerns us; Collateral damage is called: Europe.
We were on the edge of stock market euphoria at the start of the session yesterday morning because the Americans were "so close" to dropping their pants against the Chinese over tariffs, all for a 0.1% drop in inflation. And suddenly a rumor spread like wildfire:
We may finally be in a recession very soon!!!
It's just an unexpected "monster", because we've only been talking about it for at least 3-4 months. But you have to remember that yesterday we took it a step further in the belief that it was going to be complete crap and that we maybe minimized this thing a little bit. That the Fed will have to do whatever it takes to bring down that famous inflation, and that the era of "whatever it takes to help the market" is well over. It's not that there was some strong, compelling news that showed us the way. No. It's just the fact that we're more certain that we're going to be in a recession than we were the day before. And probably less than tomorrow. Or not.
The bloodshed of the recession in Europe
Be that as it may, and regardless of where this sudden conviction that recession is watching us today a little more than yesterday, the first region of the world that had all the teeth; this is europe The market completely cracked on sellers' fears, and the final results were in clear numbers, with the DAX down 2.91%, the CAC down 2.68% and the Italian index down 2.99%. In Switzerland, we "limited" the losses with a decline of "only" 1.65%. In this wave of recessionary fears, players have thrown in absolutely everything, taking no prisoners, with a clear preference for the oil sector. The sector, which was in the TOP the day before, succumbed to the aggressive onslaught of sellers, who at the same time observed the fall of oil.
YEAH, BECAUSE WE JUST BEGAN TO FIND OUT THAT WE ARE GOING INTO A RECESSION, THAT NOBODY WILL BUY OIL EVER. Therefore, the barrel literally fell below 100 dollars. 20 days ago you would have asked any analyst, any trader, any investor, they would have told you that oil CANNOT GO DOWN and the question was not if it was going to go up, but rather if how far will she go rise. The answer was: for now. 20 days ago we were at $123.75 and EVERYONE was convinced we were going to 150 or 180.. MINIMUM. There's even a guy from JP Morgan who came over this weekend to tell us that a barrel could hit $380. And that the only way to lower oil prices was to "suddenly destroy demand."
Sudden destruction of demand
Yesterday, aware and gaining virtual certainty through the unknown-what-means that we are about to enter a recession, participants predicted a destruction of demand. There's even an analyst at Citi who has calculated, quote, "that the recession we're about to enter is so dire that it could even reach $65 a barrel by the end of the year and up to $45 in 2023." And PAF, a surefire hit at $180 oil that just went up in smoke. The 814th of my 814 career hits went up in smoke. I have yet to start meeting the right people!
So in Europe we translated the drop in oil prices into the fact that we were going to experience one of the worst recessions in human history, and that the lucky ones were vegans because they had already learned not to eat meat. , for others they will have to learn how to hunt rats on the streets of Paris and then find recipes online to cook them. As a result, the markets fell, with the DAX and CAC40 ending at their lowest level for the year. Graphically, the fence was completely WRONG.
Except that there are two ways of interpreting the word recession.
American rebound
Yesterday, when New York opened, the whole world agreed that the word "recession" meant that we were in a hellish mess and that without central banks, with the total destruction of demand, the capitalist system would collapse. like an overripe apple and the end was near. Thus, American indices began the session in the shadow of Europe, as in Europe. And then, just as Europe ended its day at the bottom of the pit, at or below the lows of the year, along came an American somewhere who proposed a slightly crazy idea…
A bit of a crazy idea that suggested that if oil goes crazy because demand dissipates into the atmosphere and the whole world starts cycling, saving electricity, eating local food and no longer taking vacations by plane and ordering anything online, which could be delivered by a diesel-powered boat… Well, suddenly inflation was supposed to disappear as if by magic, as if the Harry Potter team at Hogwarts were simultaneously working to make it disappear with the Wand. And if inflation were diluted in the atmosphere, the Fed would no longer need to raise rates. NEVER. They may even have to lower them. Not to mention that we briefly experienced an inversion of the 10-year and 2-year curves yesterday, confirming once again that the recession is galloping closer. Even if we normally only worry about this signal when it suits us, this time we told ourselves clearly that under these conditions the Fed could only be our friend and that Powell was a good guy after all.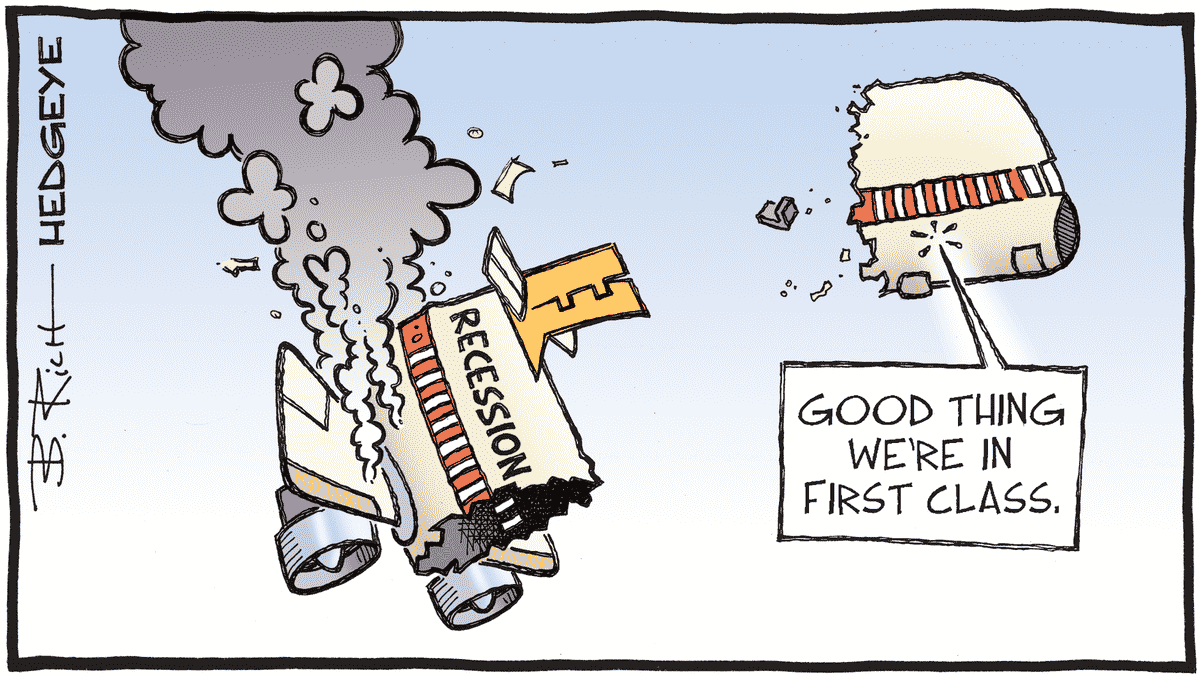 Return to growth
In this atmosphere of joy and happiness, we suddenly saw Powell descend from the sky to open the waves of the Atlantic so that people could ride bicycles in the US without damaging the carbon footprint, and then he proceeded to multiply promises of lower rates as Jesus multiplied loaves and liters of wine, the markets did a 180-degree turn and we did the exact opposite of what the indices of the old continent did. Tech stocks that no one wants anymore are back in fashion, and suddenly we're struck by the fact that 10-year yields have started to fall again, and that suddenly prices are less trendy than stocks. growth.
Yesterday's session will be extraordinary in the sense that we practically applied all the economic theories, translating them into stock market performance during the day, without having any concrete information except speculation and interpretation. Not forgetting that tonight we will have the minutes of the FOMC meeting, which should confirm that Powell is so committed to getting inflation down to 2% that it is possible that he will tell us, "I will do whatever it takes to get inflation down." and I don't care about the rest." In any case, oil decided to participate in the military effort directed in this direction. Gasoline prices in the US have been steadily declining for 21 days, while European gas prices are still on top, and we wonder if it's a good idea to lower prices and get rid of motorists' bad habits, given that they will soon be banned from driving anyway .
Rest
Asia this morning rather applauds the fact that inflation will hurt, and even if rates never rise again; not sure if that's enough. All three indices fell by an average of 1.2%. Oil is $100, gold is $1,766 because there will never be inflation again next year when oil is $45 and bitcoin is $20,000, just like this morning.
In today's news, Biden's proposal to repeal federal fuel taxes has been defeated. Of course, now that these stupid motorists continue to pay taxes, it goes down. We will not give them gifts. Otherwise, Boris Johnson will be in trouble again as several ministers defect. But it does not concern anyone. Elsewhere, we talk about oil, inflation, the recession, and the fact that tonight's FOMC meeting minutes will change our lives. Agricultural salaries are not due until Friday.
That said, there will be plenty of other numbers and ECBs to talk about. In the US, we will have JOLTS, as well as non-manufacturing ISM and services PMI. I do not even dare to imagine what interpretation this can be made. Now futures are down 0.16%, Asia is in the red, and oil is clinically dead.
I can only wish you a good day and see you tomorrow!
Thomas Veillet
invest.h
"Success is not final; failure is not fatal: what matters is the courage to continue. – Winston S. Churchill