Anapaya Systems AG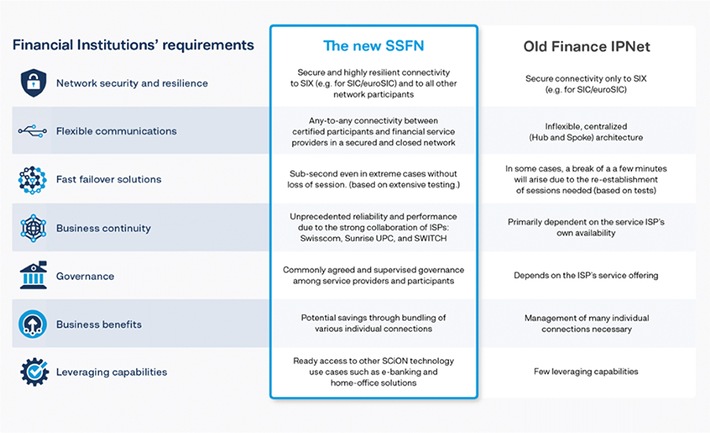 Zurich (ots)
The Swiss National Bank (SNB) and financial market infrastructure provider SIX launched the Secure Swiss Finance Network (SSFN) in November 2021 in close collaboration with telecommunications companies Sunrise, Swisscom and SWITCH, as well as software provider SCiON Anapaya Systems. SSFN is based on SCiON technology and offers the Swiss financial industry more flexibility, functionality and increased cybersecurity. From June 1, interbank transactions of SIC and euroSIC payment systems are also integrated into SSFN. Thus, in Switzerland alone, transactions worth 300 billion francs a day can be better protected from instability and cyber attacks, which strengthens the Swiss financial center internationally.
The Swiss Interbank Clearing System (SIC), managed by SIX, requires secure and stable connections and is one of the most important financial infrastructures in the industry. As of this month, the Swiss National Bank is using SSFN to connect to productive SIC and euroSIC systems, proving its leadership and confidence in the network.
SSFN is a stand-alone network, even more robust than the existing Finance IPNet communication network. SSFN offers excellent connectivity and stability, providing flexible communication with the financial market infrastructure (IMF) between market participants. It protects against major Internet risks, such as distributed denial-of-service (DDoS) attacks, and thus strengthens the cybersecurity of the Swiss financial center as a whole. Gradually, other services, such as the SECOM securities settlement system or ATM Monitoring (electronic ATM monitoring), will also become available through SSFN and replace the current Finance IPNet.
The financial industry has begun the process of migrating its interbank payment traffic in collaboration with network infrastructure experts. Because all adaptations are performed at the network level, end users of commercial applications do not experience the effects of migration.
Fritz Steinmann, Senior Architect and Network Security Architect at SIX, at SCiON: "Extended testing in extreme conditions has proven the reliability and resilience of the infrastructure, made possible by SCiON-based path control and multi-path network architecture properties. This level of reliability and resilience is a huge improvement in business continuity for current and future system-critical applications and applications, not only in the financial sector but also for other critical infrastructures. "
***
About SIC / euroSIC
SIC is one of the world's leading real-time gross settlement systems (RTGS) and handles millions of transactions worth more than 300 billion Swiss francs daily. Therefore, the SIC is of great importance for the proper functioning of the Swiss financial center. euroSIC provides Swiss participating banks with fast and cost-effective real-time communication with all financial institutions in the EU and the EEA. Conversely, euroSIC allows EU / EEA banks to easily and efficiently conduct euro transactions with Swiss euroSIC members. More information at the link: https://www.six-group.com/fr/products-services/banking-services/interbank-clearing/sic.html
About Anapaia
Anapaya Systems SA is a Swiss company whose goal is to create an international ecosystem that offers SCiON-based services for more reliable, secure and stable networks. Our solutions enable organizations around the world to securely and transparently transport sensitive business data over the network and transfer information between corporate locations, trusted partners and cloud providers. Anapaya Systems SA is headquartered at Hardturmstrasse 253 in Zurich, Switzerland, and is represented by Martin Bosshardt (CEO) and Samuel Hitz (Technical Director). https://www.anapaya.net/
Contacts:
Marketing and Communications Contact: Leah Ladines, [email protected]
.