Some environmental and social resolutions may impede progress toward more sustainable economic models and social goals.
Andrew Howard, Director of Sustainable Investing Research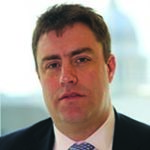 Given the importance of addressing complex sustainability issues today, it is only fitting that the actions of all stakeholders and their representatives – from activists to asset managers – are scrutinized.
Recently, there has been a growing interest in investor voting reports, particularly in shareholder decisions that are put to a vote.
A process for submitting resolutions at corporate general meetings exists in most major markets. Shareholder resolutions allow shareholders to submit to all shareholders proposals for changes to be made by the company concerned, often focusing on social and environmental issues.
We see them as an important tool for communicating our views and expectations to the companies in which we invest, especially in areas not covered by a normal vote at a general meeting.
We take our voting responsibilities very seriously. Each resolution contains a specific request to a specific company, which we evaluate using our own due diligence. We cannot consider the resolutions as the formulation of our general position on the issue.
Each resolution contains a specific request to a specific company, which we evaluate using our own due diligence. Accuracy above all else.
Often we support the purpose a resolution may advance, but conclude that the wording of the resolution undermines its success. Accuracy above all else.
This situation is becoming more common as action groups use shareholder resolutions as leverage for change.
We researched ten associations that actively use shareholder resolutions to call for action on social and environmental issues. The results show an increase in their activity: as shown in the graph below, these ten associations are the source of almost a third of shareholder decisions related to environmental and social issues.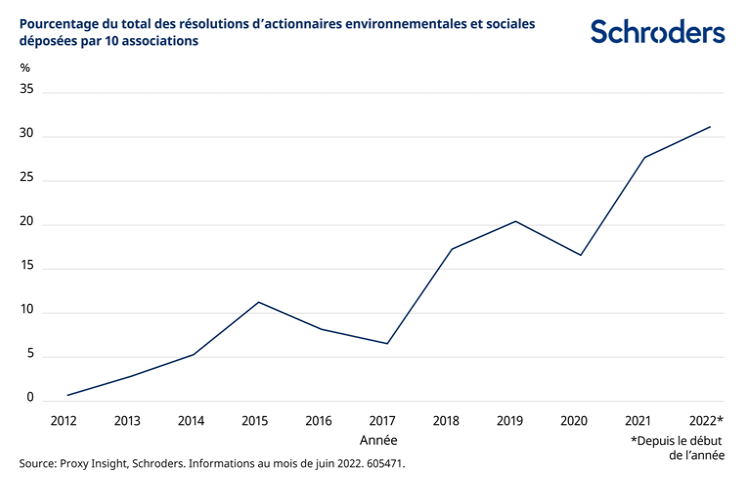 We are always ready to cooperate with these associations, welcome their growing role and often pursue the same goals. But we must remember that some resolutions may stand in the way of the changes we have committed to and recently described in our Commitment program.
The main points we sometimes make about these resolutions are:
Target companies that have made relatively significant progress in solving problems, rather than laggards that could do more to drive change.
Insist on specific actions that we believe may hinder the achievement of goals.
Require companies to take actions that put their business model at risk without significant benefits.
This criticism of certain shareholder resolutions does not prevent us from being fully committed to encouraging companies to adopt more sustainable business models and take responsibility for their results.
Engagement activities – frequent conversations with company leaders – are critical. Schroders now requires every fund manager and analyst to undertake a certain number of quality engagement actions each year, ensuring that the collective weight and influence of the company is used to drive positive change.
With respect to voting, we have historically supported more shareholder resolutions than many of our larger competitors. But our support – or our opposition – will always depend on the accuracy and adequacy of the wording of the resolutions, and we will vote based on a detailed understanding of the company's business model and its progress to date.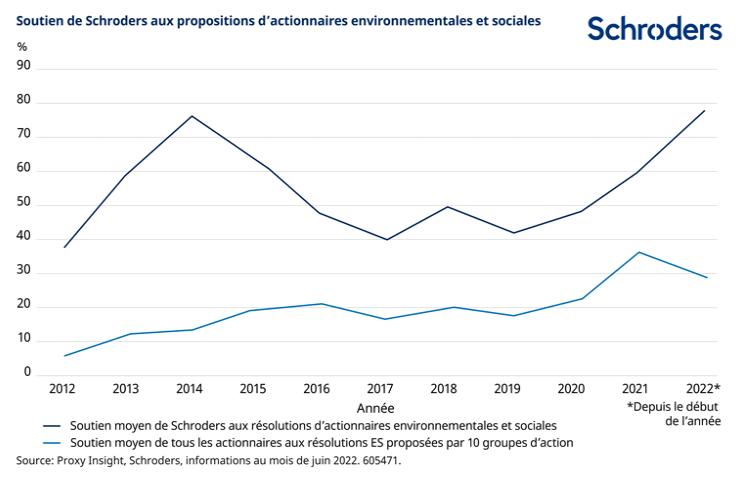 We know that ratings of our support for shareholder resolutions will be compiled and published in the coming months, possibly out of context.
It is dangerous to assume that increasing shareholder support for environmental and social solutions is always better. Our industry must make it clear that the decisions we make are in the best interests of customers and all stakeholders.
Show article disclaimer

---
Important information. This message is for marketing purposes. This document expresses the opinion of its authors on this page. These views do not necessarily reflect those expressed or reflected in other communication materials, strategies or presentations of the Schroders fund. This material is intended for informational purposes only and is not a publication of an advertising nature. This material does not constitute an offer or solicitation to buy or sell any financial instrument. It is not intended to provide and should not be construed as accounting, legal or tax advice or investment recommendations. The opinions and information provided herein should not be relied upon for individual investment and/or strategic decision making. Past performance is not a reliable indicator of future performance. The value of investments may decrease or increase and this is not guaranteed. All investments involve risk, including loss of principal. Schroders believes the information in this communication to be reliable but does not guarantee its completeness or accuracy. Certain information provided has been obtained from external sources that we believe to be reliable. We disclaim any responsibility for any errors made by third parties or actual information received from third parties, knowing that this information may change depending on market conditions. This in no way excludes Schroders' liability to its clients under any regulatory system. Regions/sectors are for illustrative purposes only and should not be considered as a recommendation to buy or sell. The opinions expressed in this material contain forward-looking statements. We believe that these statements are based on our expectations and belief in reasonable assumptions within our current knowledge. However, no assurances can be given as to the future realization of these expectations and opinions. Views and opinions can change. This content is published in the UK by Schroder Investment Management Limited, 1 London Wall Place, London EC2Y 5AU. The company is registered in England under number 1893220. It is authorized and regulated by the Financial Conduct Authority.
---