There is Europe and then there is the US. This is what we will need to remember from yesterday's session and this is also what we will need to remember from today's session. Yesterday morning, optimism was everywhere on the planet and I kept hearing in the media – whether online or on TV; "that the worst is behind us, that inflation has probably 'peaked' and that we have witnessed the birth of a new little bull market." In other words ; we are witnessing the death of the Bear Market because the quarterly performance of companies is "less bad". It remains to be seen if this is reality or if it's just us who were too worried.
Audio recording from July 21, 2022
Download the podcast
A question of perspective
Yes, because it's true, when you look at Netflix's numbers, which are still the main driver of tech's rise last night, you can't deny the fact that aside from the fact that they "simply lost fewer subscribers than expected" the overall results do not warrant a significant rebound at all, but rather encourage caution. Except we tend to expect the worst so much that the slightest improvement counts as a "WONDERFUL SURPRISE". In a normal market based less on the desire to play with three moves and two games ahead, Netflix's numbers released a little over thirty hours ago absolutely should not have caused such a frenzy. A shrug at best, but no more.
Except now we're living in a parallel world where it's ABSOLUTELY great for a company to beat its own crappy predictions it made three months ago. And the whole market works according to the same model. The duration of the investment has become so short that no one takes the time to look far and rely on numbers or information gathered by the company's marketing department or worse; by a group of analysts based on data provided by the same marketing department of the company. This means that, naturally, it becomes increasingly difficult to separate the wheat from the chaff. So over the course of several days, we heard more and more pundits telling us that the Bear Market was dead and that everything was fine again. That's a bit of a summary of things, but it's not far off.
Europe still doubts
Except that yesterday morning, when everything started well in Europe and the US promised us a great session, led by Netflix, who just proved to the world that they solved all their problems, or almost. Especially almost. European merchants began to wonder if things were going as well as they were selling us. Russian Prime Minister Lavrov, the man who allegedly passed off the last war's "Obersturmbannführer" for a "good organizer" of Club Med, hinted that "ultimately" Russia will not be satisfied with eastern Ukraine and that there are many other places. they wanted to invade. He did not specify whether the 16th arrondissement of Paris and the wider suburbs of Zurich were part of his plan, but his words in any case cooled the atmosphere. What even air conditioners are not capable of now.
In addition to Obersturmbannführer Lavrov's sweet words, there were also questions about the gas supply, which should be restored this morning – but slowly – Europe is also asking everyone to make an effort not to consume too much energy and save money for this winter. We feel that the political tension is palpable. Perhaps even more so in Germany than elsewhere, even if yesterday in France you should have seen Olivier Veran's speech anyway. A puppet who went from health minister to government spokesman – yes, Macron managed to make him believe it was an "upgrade" – so Veran urged the good French to save money by "turning off Wi-Fi when they're not at home and turning off ". light in empty rooms." You must watch the video, it is absolutely pathetic and it looks like the French political authorities are targeting 8 year olds. And even.
Italy is on the brink
So between fears of a lack of energy, Lavrov playing Napoleon in Ukraine, not to mention that Draghi seems closer to an exit than ever, and the ECB is set to speak today. It can be noted the lack of desire on the part of buyers. Even if we continue to be told everywhere that inflation peaked in June, and the July numbers show that everything is under control, and then Joe Biden will ask for a new holiday to be called St. Powell, the spearhead of the fight against inflation and the God of piloting the economy in sight
However, while the Europeans seemed very reluctant to buy, the Americans thought that if Netflix was beating everyone in the face with its ridiculous predictions, which in the end turned out to be more or less crap and an ultra-side dish. especially; why shouldn't the entire market do the same. And then, especially technology. So the day on Wall Street is clearly reorienting itself around the Nasdaq and anything that can become hyper-speculative in the event of a boom in this new so-called bull market that has just been born. It is especially worth noting the interest in companies related to cryptocurrency. Indeed, Bitcoin's awakening in the last hours and the fact that Coinbase announced that they had NO INFLUENCE on either Three Arrows Capital or Celsius was almost enough to send the stock up 50% in four days of trading. Today, the explosive rise is justified NOT TO BE IN A ROTTEN PLAN.
Simply put, the Europeans got scared, and the Americans rode the wave of the non-existent success of certain technological stocks. And when the session ended, we were still wondering if we had gotten a little carried away. At any rate, that's what gurus like Grantham, who expects the S&P500 to drop 25% — like every time he speaks, by the way — or even Cathy Stockton, who thinks we're just in bear market rebound, and the backlash will be as brutal and depressing as ever.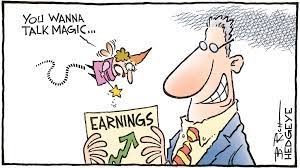 In Asia
In Asia this morning, Japan rose slightly while the rest fell. Hong Kong fell by 1.4% and China by 0.4%. It is the strength of the Chinese economy that is currently causing problems in the markets. Or rather lack of cheerfulness. But we also talk about the fact that inflation is always scary, even though everyone is telling us that "inflation is over" and that we just have to wait for July's CPI data to be released before we can see it. everything is fine and settled once and for all. Like COVID, three, four, five or six shots of the vaccine, maybe seven, and that's it.
For the rest, a barrel remains below $100, with gold finally breaking $1,700 on its way down. It must be said that since we know that inflation is over, we no longer need to defend against it. It worked so well before. The yellow metal is trading at $1,688. Bitcoin has also bounced back after a strong rally of nearly $3,000, with digital gold trading at $22,700 this morning.
Only happiness in the news of the day
As for the news of the day, we only talk about three things:
1) Point one: Tesla, which published its data. The numbers aren't as bad as expected, despite the terrible sales that we were predicted — that Tesla predicted for us — the company is doing well and posting data that far exceeds the expectations of markets, analysts, and my cab driver. We'll note a little pressure on margins — something quite unusual for Tesla — but with Musk announcing that the rest of the year is going to be explosive and that it's going to be champagne and parties for everyone, there's no reason to worry. Not to mention that Tesla sold 75% of its bitcoins at a loss – but not as much of a loss as expected. Therefore, we can say that the indicators are excellent. Shares rose 1.5% after the close, and most analysts maintain their 100% upside target after 12 months.
2) Point two: Madame Lagarde and the ECB, who will be in the spotlight all day with the interest rate hike announcement and the speech that goes with it. We are currently using a rock-paper-scissors solution and it should be somewhere between 0.25 and 0.5% growth. Since they cannot rise between them, we will have to make a choice, and that is what will occupy us this morning. And then, once we hear back, we rush to wait until next Wednesday to find out what the Fed is going to do.
3) Point three: Italy, which is always a little more in the pie. Last night's vote of confidence in Draghi appears to have been a total failure, and the ex-Goldman Sachs and ex-ECB Italian prime minister appears to be a little closer to an exit – assuming he's not already out – which should only help the ECB modestly and Europe in general, as they already have plenty of problems to deal with at the moment without being stuck at the top of Italy, which is on a roll. However, it should be noted that over the past 131 years, Italy has had 162 governments, the average duration of which was about 3 months. So the Draghi administration, which has been in power for almost 18 months, has fared much better than others and they will surely find us a new clown who will have to fix things – I think Eros Ramazotti is free now, he should be. trick. Unless Berlusconi offers a solution.
Numbers of the day
As for the numbers of the day, there will be AT&T, Nokia, Philip Morris and American Airlines before the opening. Speaking of airlines, United Airlines posted a dismal quarter after the close last night, blaming oil and rising costs, shares lost 7% after the close. After closing today, we'll have a SNAP, which can be a lot of fun, too. There will still be Mattel, but it will be less funny. In terms of economic indicators, like every Thursday, there will be jobless claims that nobody cares about unless they are 100% of normal. And then there's also the Philly Fed and of course the Madame Lagarde show, which starts around 2:30pm and should end late into the night.
Futures are currently down 0.2% and everyone is wondering if we are in a new bull market or if this is just a bear market rebound. Answer by the middle of next week. I wish you a great day and see you tomorrow to wrap up the week!
Thomas Veillet
invest.h
"Life is what happens when you're busy making other plans." -John Lennon