Immediate advance tax credit for personal services is provided to individuals who use personal service organizations (service providers, agents or connection platforms) from June 14, 2022.
This is the second stage of the implementation of the immediate advance of the tax credit for the costs incurred for personal services. Originally scheduled for April 1, its use was postponed for technical reasons.
Immediate advance of the tax credit by service providers
From mid-June, the instant tax credit should be available to people who use human service organizations as service providers, agents or network platforms.
These professionals must be connected to a specific Urssaf exchange management program. Then they can offer to individuals issuing invoices that include immediate tax credit. This service is available optional and free.
The application of the system of immediate advance tax credit is planned for 2023 for persons receiving a personalized autonomy allowance (APA) and disability compensation (PCH); in 2024 for care services for children under 6 years.
Instant tax credit directly for individual employers
Instant or immediate tax credit is already provided to employers-individuals through the service "Cesu +" from January 1, 2022. It applies monthly to all expenses (salaries and fees).
To use this service, the employer and the employee must jointly sign the form and provide their bank details. After filing the declaration, the employer pays only wages and expenses less tax benefits. This reduces the monthly financial burden for an individual employer. It is Urssaf that is responsible for paying the employee his salary. If he is taxed, he receives a "net" minus his tax rate.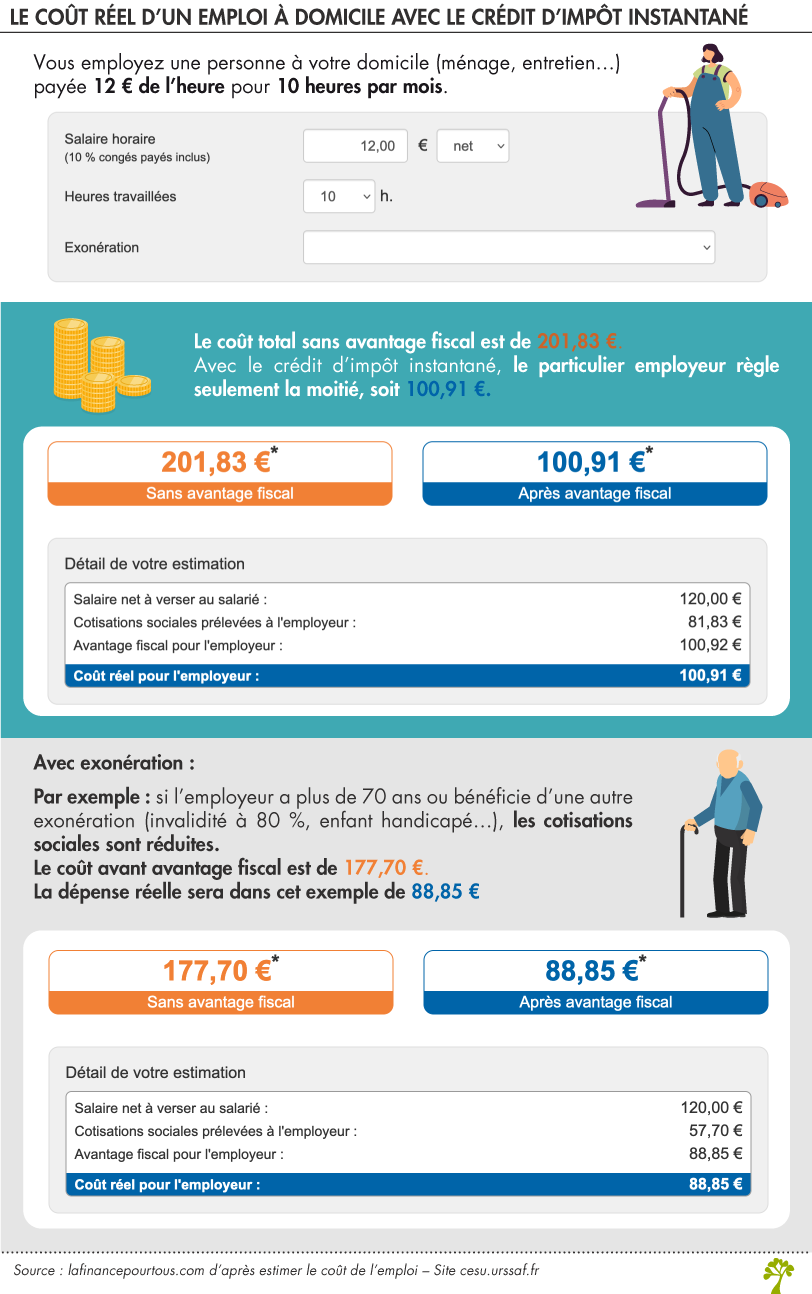 Personal services: tax credit for all taxpayers
Personal services entitle you to the tax benefit corresponding to reimbursement of 50% of costs incurred (wages and social benefits included), within 12,000 euros per year and per household tax costs (excluding any surcharges). For certain services, the marginal cost is lower: € 500 per year for "small DIYs" (less than 2 hours per intervention), € 3,000 per year for IT and Internet assistance, and € 5,000 per year for small gardening jobs.
The tax credit is provided to all taxpayersnon-taxable or non-taxable. If the tax benefit exceeds the amount of tax payable, the excess is reimbursed by the tax authorities.
Immediate advance of the tax credit is positively perceived by the French. According to one survey conducted by Ifop for La Maison des Services à la personne from 29 to 31 March 2022 (from a sample of 1002 people representative of the French population aged 18 and over), this system is perceived as a favorable measure for job creation (62%), positive for purchasing power (60%) and which could encourage French people to use personal services (57%). It should be noted that only 18% of households report that they use personal services (childcare, cleaning, gardening, care for the elderly, etc.).