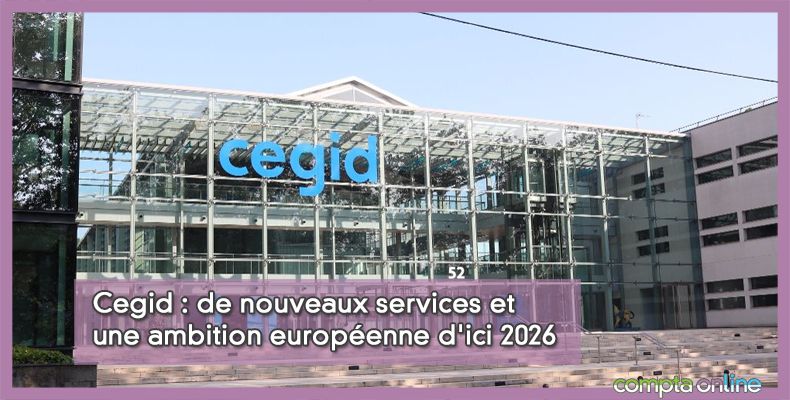 Cegid wants to write a new page in its history. After doubling the group's turnover in five years, Pascal Uyon, CEO, is planning a new course: further doubling revenue, accelerating SaaS and creating new services, including financial, for chartered accountants and their clients.
You headed Cegid 5 years ago with great ambition. What is the situation in the company today?
When Cegid came to power in 2017, we had an ambitious plan and a clear chance. Thus, our strategy for 2021 envisages a doubling of turnover, internationalization and faster transition to SaaS. To achieve these goals, we have significantly reduced the number of business units and products to bring more value to our customers. Thus, we have moved from more than 100 products in 2016 to 30 today, in about 5 main markets: accounting, finance, human resources, retail and small business.
Five years after defining this plan, we have achieved our goals: Cegid now generates 632 million euros in sales, 66% of which are due to our SaaS solutions. We serve almost 350,000 customers thanks to our 3,600 employees, a third of whom are outside France.
How did these ambitions come true in specific terms for your clients?
Our first ambition was to bring more value to our customers in all our markets. We have done this by constantly creating new services, as well as participating in the digitalization of our customers. Cegid now digitizes 10 million invoices per month. This, of course, includes digitizing the invoice, as well as checking its integrity, automatic recognition and distribution of accounting. This is a real gold mine for our customers who can save time and offer new services.
What does your strategic plan for the near future contain?
The results of the first strategic plan are excellent, but we do not want to stop there. The Forward 2026 plan is based on the success of the transformations carried out since 2017 with an even more ambitious goal: redouble our turnover by 2026 and further accelerate SaaS and the internationalization of our company. This internationalization will be mainly due to the acquisition policy supported by our shareholders, Silver Lake and KKR.
How do you see the future of public accounting in the coming years?
The profession of accountant is undergoing profound changes, in particular, with technological and regulatory developments in recent years. However, these events are also a source of opportunity. The Pacte Act opened up the practice of the profession, allowed new missions and new methods of invoicing. At the same time, the generalization of electronic invoicing will speed up the digitization of flows. Therefore, the opportunities are huge.
How do you plan to support the profession?
Accounting expertise is a fantastic ecosystem for Cegid: 6,000 companies use our products, and 4,000 of them advertise their services through the Cegid portal, thus combining their experience and our solutions. This is our role: to provide companies with the necessary technology so that they can offer new services to their customers, Free them from challenging tasks to create both opportunities and time.
Our business is evolving into services related to data, artificial intelligence and finance. More specifically, we believe that digitizing flows will enable companies to develop financial services, such as simplified factoring, the ability to move vendor capabilities in a few clicks, or more efficient management of advance payments. This is one of our priorities for the coming years.
What will be Cegid's role in generalizing electronic invoicing?
The generalization of electronic invoicing will open new opportunities for accounting firms and their clients. That is why we rely heavily on the government to maintain the planned agenda [NDLR : le calendrier a t modifi une premire fois, dcalant de 12 18 mois les chances initiales]. The challenge is to allow companies to have more up-to-date, relevant and therefore more useful financial information.
All the criteria for the certification of the PDP platform (partner dematerialization platform) are not yet clear. The government's planned reform is ambitious and time-consuming. At the moment, we are more interested in the status of dematerialization operator (OD)which will allow us to manage the flow of incoming and outgoing invoices in favor of firms.
Today you announce the purchase of Wittyfit. Can you tell us more about this decision?
The Wittyfit platform complements Cegid's talent management offer, Cegid Talentsoft, enabling HR managers of medium and large companies to offer new experiences to employees. Wittyfit allows you to measure, analyze and act on employee satisfaction, engagement and monitoring with a single SaaS platform. This is a real control panel, a leading solution for human factor management in companies.