China's "zero Covid" policy is putting a heavy strain on the economy, and Nio, one of China's leading electric car manufacturers, has stalled due to a strict restrictive policy and a lack of spare parts suppliers. Moreover, the Chinese company is on the list of companies that could potentially be listed on the New York Stock Exchange.
Written by Esti Dweck, CIO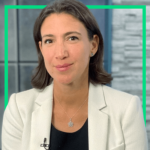 However, on April 26, Nio released its 200,000th car and seeks to expand its influence beyond the Chinese border. At the end of April, the company was even able to start production of a new ET5 at a new plant in Hefei.
Review
Founded in 2014, Nio has become a major player in the Chinese electric car market along with Li Auto, BYD and Xpeng. Most Nio sales are aimed at the Chinese market.
In total, Nio has sold nearly 200,000 electric vehicles, including nearly 100,000 in the last twelve months. The company has huge growth potential, as China is one of the largest markets for electric vehicles in the world.
In addition, Nio is preparing to expand its presence outside China; the company began selling its ES8 model in Norway late last year.
A difficult year?
This year, in January 2022, NIO delivered 9,652 cars, which is almost 34% more than the previous year.
In addition, car sales fell to 6,131 in February, about 10% higher than a year earlier and much lower than in previous months. The slowdown in February is not a concern in itself, as the Chinese New Year period in China is a quiet period.
Moreover, sales jumped again to 9,985 in March, up 38% from a year ago, but fell again to 5,074 in April, up 30% from a year ago due to the latest Covid measures imposed by the Chinese. government.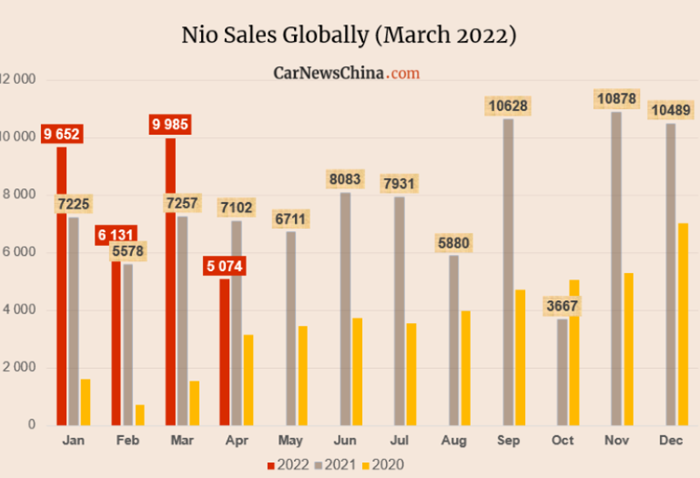 New models are appearing
The all-new NIO ET7 was launched in China on March 28 and is expected to be launched in Europe by the end of this year.
The new NIO ES7, a mid-sized five-seater SUV, and the ET5 model, a mid-size electric sedan with an impressive claimed range, are expected to find their drivers in the coming months.
The three main models at the moment, ES8, ES6 and EC6, will be updated in May with new technologies, including an interesting upgrade option for existing cars as well.
But the company faces production breaks
But Zero Covid could disrupt Nio's plans and delay supplies. The company announced it would halt production in April under pressure from a shortage of spare parts from suppliers and a policy of strict government control. Activities resumed a week later, but the threat of a new halt is ubiquitous, as the Chinese government insists on fighting the spread of the virus on its territory: an almost impossible mission, knowing that the rest of the world does not pursue such zero-influence policies but collective immunity.
Therefore, it is difficult to estimate how long the Nio plants will remain under pressure, but repeated shutdowns can have significant consequences for the company's operations and forecasts when the company must reach the profitability threshold.
Profitable since 2024
Although Nio is growing rapidly, it is a young company that is not yet profitable. The company is expected to record the latest loss by the end of 2023 and become profitable from 2024. But estimates are based on a high growth rate of 75-80% on average year on year, which implies uninterrupted production capacity and sales.
Thus, interruptions in production due to Covid measures may further delay the time to profitability.
The government's repression is coming to an end, but …
Chinese stocks have been hit hard by the harsh repression that has hit China's largest companies since late 2020, according to Xi Jinping's "general prosperity" program.
But Chinese officials recently announced that the crackdown would slow down, making it easier for investors to sigh into China's most popular technology stocks.
Moreover, in contrast to rising interest rates by major central banks, including the Fed, the People's Bank of China (NSC) continues to support expansionary monetary policy. However, vague policies may not be enough to improve the image of China's technology giants if the government remains stubborn about managing the health crisis and if data sharing with US auditors is not established.
China has announced that it has changed its financial data sharing rules to give US regulators full access to audit reports so that Chinese companies can remain listed on US stock exchanges. But recent news has not saved Chinese companies listed in America, including Nio, from the threat of exclusion from US stock exchanges.
Faced with the threat, Nio is planning a secondary listing in Singapore, in addition to listing on the Hong Kong Stock Exchange.
From the price side…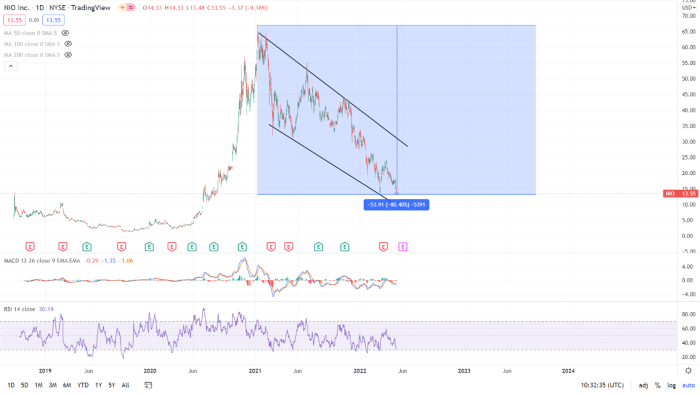 The company maintained a positive attitude towards Chinese stocks before government repression damaged Chinese stocks in late 2020 and early 2021. Nio shares have lost up to 80% of their valuation on the Chinese Stock Exchange in New York from January 2021 to today.
It is difficult to predict whether the price will bottom out, but a sharp drop in stock prices could create an attractive opportunity for investors to buy Chinese stocks.
Analysts predict that Nio's share price will recover by more than 125% over the next twelve months. The most pessimistic forecast points to a correction of almost 70% in the CNN Money poll, while the most optimistic expectations rise to $ 82 per share, or more than 500% growth in one year.

NB: These are not investment recommendations.
Go to www.flowbank.com