>> Increase South Korean investment in Vietnamese real estate
>> The EU Delegation in Vietnam is exploring investment opportunities in Binh Duong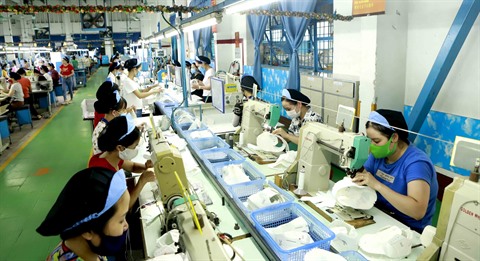 The rating agency S&P forecasts Vietnam's GDP growth in 2022 by about 6-9%.
Photo: VNA / CVN
Despite the difficult developments in the world economy in the first half of this year, Vietnam's adaptive and flexible economy, which has its advantages, is gradually recovering from growth with very encouraging results. Exports, investment and consumption increased significantly, which significantly increased investor confidence. This indicates that the Vietnamese economy is gradually returning to a growth trajectory.
The economy returned to high growth in the first quarter of this year, reaching more than 5%. S&P upgrades Vietnam's long-term credit rating from BB to BB +, noting that Vietnam's economy is on a solid path to recovery and forecasts Vietnam's GDP growth of about 6% in 2022 at 9% on a long-term basis. 6.5% to 7% from 2023.
In addition, the Vietnamese government has actively launched many action programs, urging ministries, agencies, local authorities at all levels, sectors and the political system, business and the population across the country to come together to promote economic recovery, including strengthening autonomy. science and technology, as well as the ability to innovate combined with broad and effective international integration.
One of the proposed large-scale solutions is a 350 trillion dong economic support program, one-third of which will focus on investing in infrastructure development, seeking to complete major transport axes such as the North-South Highway to the east as soon as possible. connecting the mountainous region of the North, as well as highways in the South-Eastern region and the Mekong Delta. These solutions will help eliminate bottlenecks in the transportation of goods, create favorable conditions for investment and development of production and commercial activities, as well as free up all resources for economic growth.
The government also encourages foreign investors and international financial institutions to implement PPP infrastructure development projects, while rapidly consolidating innovation innovation policies to create breakthroughs and develop a sustainable, high-tech economy. However, investing in infrastructure, transport and digital infrastructure is not easy and requires the participation of many participants.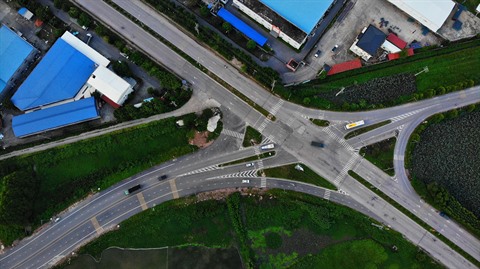 Investing in road and digital infrastructure requires the participation of many participants.
Photo: VNA / CVN
The Ministry of Planning and Investment, the National Innovation Center (NIC) and Saigon Telecommunications Technology (SAIGONTEL), one of the pioneering companies in the field of investment, are helping to create the impetus for economic recovery and development in the post-COVID-19 era. and infrastructure development and innovation projects – jointly organize a seminar on June 17 in Ho Chi Minh City "Investment Strategy in the context of new normal and stimulating innovation."
This forum is also an opportunity to identify the challenges of the economic recovery process and apply creative practices to address these challenges in the current period; in particular, in infrastructure investment, transport is an area that plays a key role in terms of increasing social investment capital and the ripple effect on economic recovery.
The event brought together the heads of central departments, offices and individual settlements. In particular, KIND (an agency under the Ministry of Land, Infrastructure and Transport of the Republic of Korea, whose role is to support South Korean investors in infrastructure development and foreign markets) took part in the seminar. During meetings with senior Vietnamese government officials, KIND said it would work with South Korean companies to find and select settlements, and encouraged investment in Vietnam's PPP infrastructure development projects.
Vietnam – Republic of Korea, close cooperation
It is also an event in honor of the 30th anniversarye the anniversary of the establishment of diplomatic relations between Vietnam and the Republic of Korea (1992-2022), in accordance with the common direction between the two countries to raise the framework of relations to the "comprehensive partnership of strategic cooperation", to which the highest leaders were inclined. both countries. According to the data, at the end of November 2021, bilateral trade reached 70.38 billion US dollars, which is 20% more than in 2020.
In 2021, the Republic of Korea became the second largest direct investor in Vietnam with an annual total investment of 7.4 billion US dollars, which is 85% more than in 2020.
The Republic of Korea continues to be the second largest donor of development assistance to Vietnam with commitments of $ 1.5 billion during 2016-2020. The Vietnamese community in the Republic of Korea (estimated at more than 240,000 people) and the South Korean community in Vietnam (about 200,000 people) continue to overcome difficulties, stabilize their lives and increase their resilience in a complex post-pandemic context.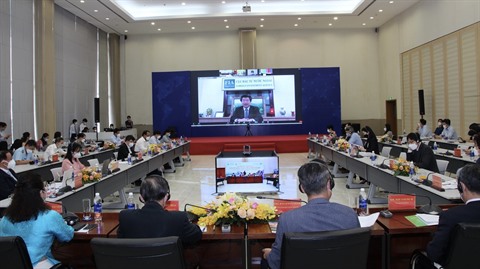 A recent symposium on promoting South Korean investment in southern settlements was held in Binh Duong Province.
Photo: VNA / CVN
During a recent meeting with the Association of South Koreans in Vietnam, President Nguyen Xuan Fuq said that Vietnam is trying to make a strategic breakthrough in the development of modern and synchronous socio-economic infrastructure to achieve Vietnam's goals with modern industry and high middle income. until 2030. President Nguyen Xuan Fuq wants South Korean investors to pay attention to investing in these areas.
The workshop will initially provide important information related to the mechanisms and policies of the Vietnamese government to promote investment, economic recovery and development after the COVID-19 pandemic.
Second, the leaders of certain localities in key economic regions, such as Ho Chi Minh City, Ba Ria Vung Tau, Dong Nai, Long An, Tai Nguyen and Quang Ninh, will make introductory remarks on policies to encourage investment in these localities. through specific programs and projects. They will become attractive destinations for investment capital with significant advantages in terms of geographical location, seaports and developed transport systems.
In addition, being flexible in improving the investment environment, these settlements will also be one of the main incentives for investors to increase capital flows in the near future.
The forum will also gather comments and measures to address investment challenges in order to overcome difficulties, accelerate research and project implementation, accelerate economic recovery, stimulate innovation, and create new opportunities for sustainable investment, creation and recovery.
Thus, it will contribute to the dissemination and stimulation of socio-economic growth, as well as guarantees of national defense and security, contributing to the successful implementation of socio-economic development goals set out in XIIIe National Party Congress.
Xuan Loc / CVN
.