What is private capital?
in Private Equity it is an Anglo-Saxon term that literally translates as "private company action", but the best equivalent in French would be "investment capital". In this article, we will use these two terms alternately. Let's go into more detail:
How private capital works
Investment capital (or private capital) consists of invest in the capital of a company that is not listed on the stock exchange. The investor's goal is to be able to resell their shares in the future with a possible increase in capital. Therefore, he will definitely choose a company with significant growth potential.
In France there are almost 2 million unlisted commercial companies (vs. only 1,000 listed) so there are plenty of opportunities… if you know how to find them, because opening capital is not a common operation in a company's life. As a private investor, the easiest way is to go through a direct investment funds managed by a team of professionals, as we will explain below.
What are the benefits for the company from selling part of its capital to new investors? The main reason is that this operation provides it with liquidity that does not need to be repaid (unlike debt).
There are 4 forms of investment capital:
venture capital, which involves investing in a newly established business that needs money for rapid development. The most famous example is that startups are making their first round.
development capitalwhere the company already has a certain maturity and seeks to increase its production capacity.
Transmission capitalwhich is to buy out the share of shareholders who wish to leave the company (for example, in the context of retirement).
Working capitalwhere the company is experiencing financial difficulties: the investor buys the shares at a good price, trying to put it on its feet.
What performance to expect?
Private capital is a potentially highly efficient asset class, c average profit rate more than 10%. In France, Private Equity generated an average annual return of almost 12% over 15 years. That's more than most asset classes!
Of course, if profitability is high, then the level of risk is high. There are basically two of them:
Risk of capital loss which can be partial (the case when the shares are resold at a loss) or full (the case when the company goes bankrupt and the shares are no longer worth anything). Therefore, it is important to diversify by investing in several companies that are not listed on the stock exchange, or, more simply, in the shares of diversified funds.
Liquidity risk, because proper shares are difficult to transfer. Unlike a stock that can be sold in seconds on the stock market, direct capital is an over-the-counter market. Thus, you may not be able to sell its securities if there is no buyer.
Different ways to invest in private capital
There are various ways to invest in companies that are not listed on the stock exchange:
through a mutual fund, the easiest solution for individuals
through a "pure" direct investment fund, a solution that is difficult to access
to live is extremely difficult for the uninitiated
Investing in a mutual fund with tax benefits
A mutual fund is a diversified portfolio of assets, usually company shares. It is managed by a management company, which is responsible for selecting assets, conducting arbitrations … Thus, the investor has no management, so mutual funds are investments that are well suited for individuals.
In France, there are 3 mutual funds for unlisted companies: FCPR, FCPI and FIP. And the icing on the cake: they give you the opportunity to take advantage of tax benefits!
FCPR (Risk mutual funds) consist of at least 50% of shares of companies that are not listed on the stock exchange; the other half can be invested in exchange-traded securities, which will be used to increase liquidity and diversify the fund. By subscribing to FCPR units, you receive a tax advantage in the event of resale: any increase in capital will be taxed only up to 17.2% (instead of 30%).
FCPI (Fonds Commun de Placement pour l'Innovation) works in the same way as FCPR, except that at least 60% of the fund must be invested in innovative companies that invest in research and development. By subscribing to FCPI units, your potential capital gains are taxed at 17.2% (instead of 30%), and you can also reduce your tax base by 18% of the amount invested (however, the tax benefit is limited to € 3,000 per year for a single person and € 6,000 euros per year for couples).
FIPs (Direct investment funds) must consist of at least 60% of medium-sized companies and be based in a certain French region. The tax advantage is the same as in the FCPR.
Invest directly or in 100% of the direct investment fund
Mutual funds, which we presented earlier, are rarely 100% invested in private capital. Indeed, they very often contain a certain percentage of stocks that are quoted to improve liquidity and diversification.
Do you want to invest only in private capital? There are two alternatives to this:
The first solution: you invest in the capital of a private company. It is possible, but it requires time, good knowledge of investments and a significant financial surface. In addition, it will be difficult for you to diversify into several companies.
Second solution: choose a 100% private equity investment fund. In France, we can mention such large direct investment funds as Ardian, Omnes Capital, Isatis Capital, Idinvest, Eurazeo … Unfortunately, tickets are often inflated (several hundred thousand, even several million euros), which makes it inaccessible to most savers .
Life insurance: the best envelope for investing in direct equity
As we explained in our guide to life insurance: this tax envelope is one of the best savings products due to its flexibility and the tax benefits it enjoys.
However, the access that life insurance provides to asset classes depends on the insurer. But it turns out that Private Equity is very rarely offered in this envelope. One of the few private life insurance companies to offer private investment is Filao Invest, which we are going to introduce.
Filao Invest is a life insurance contract with a lot of support, ie it gives access to both the European fund and units of account. It is insured by MIF, one of the largest French insurance and insurance companies.
Here is a brief description of the characteristics of Filao Invest life insurance:
General Information
Insurer
MIF
Type of contract
Life insurance with multi-support
Entrance ticket
500 euros
Payment fee

Free

Arbitration fees
0%
(1% if the share is related to the arbitration of the European Fund)
Redemption fee
0%
Media available
euro funds
European MIF Fund
Return of the European Fund in 2021
1.7%
Units of account
ETFs (2)
Private Equity (2)
SCPI (2)
Fees for the management of mutual funds and funds in euros
0.6% / year
Management methods
Free management

So

Managed management

No

Recommended management

So

Learn more
Filao Invest is a 100% online life insurance policy with reduced commissions: no commission for opening / closing, 0 euros or arbitration fees … It is also known for its excellent MIF fund in euros, which generates above-average performance each year.
First of all, Filao Invest allows you to invest in 2 great direct investment funds:
Amundi is the flagship of the territories, FCPI, managed by Amundi (Europe's leading asset management manager with € 1,600 billion under management!), Aims to invest in sustainable and profitable SMEs and ETIs. The target net return of this fund is about 8% per year.
Idinvest Private Value Europe 3, FCPI, which selects medium-sized companies (TMIs) based in Europe and OECD countries. He invests directly in the capital of companies, as well as in debt, which allows them to buy (intra-tranche debt, mezzanine, etc.). Its target return is also 8% net per year.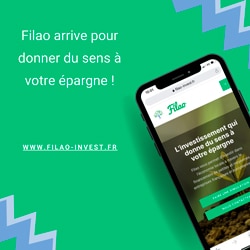 In conclusion: is it worth investing in direct capital?
Investment capital is available an interesting asset class in your diversified portfolio. Expected returns are attractive, but keep in mind the risks of liquidity and loss of capital.
There are different ways to invest in private equity: invest directly, through mutual funds or mutual funds to benefit from tax benefits (FCPI, FCPR and PFI).
In our opinion, the best solution for a private investor is to invest in FCPI mutual funds through good life insurance. That's why we recommend Filao Invest, the new 100% online life insurance from MIF.