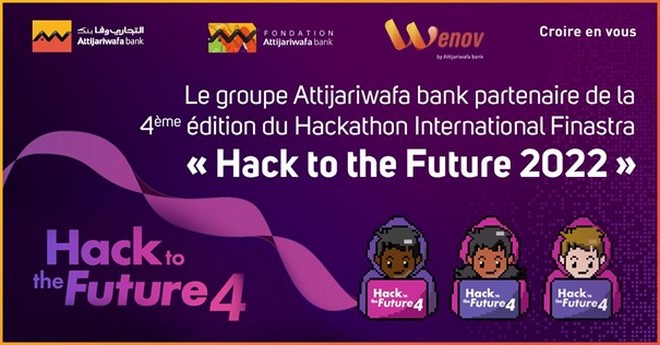 Attijariwafabank, which puts innovation at the heart of its development strategy, has joined forces with Finastra, a multinational financial software company, to take part in Hack to the Future, an international fintech movement aimed at creating a stable financing. including.
This collaboration aims to make innovation a real lever for value creation and inclusion, both for the Attijariwafabank Group and for its national and international ecosystem.
The partnership resulted in the participation of bank employees through Wenov (developers, business and technical experts) in calls and webinars on DeFi, Cryptocurrencies, NFT, etc.
The Attijariwafabank, in partnership with Wenov, organized a civic campaign in support of education: 4 public high schools were mobilized with the consent of the Casablanca-Settat Regional Academy of Education and Training (AREF) to compete with almost 120 students. in the category "YouthHackathon" for teenagers 10/18 years. Hackathon focused on "sustainable and inclusive finance".
On the other hand, the Foundation invited volunteers from the Attijariwafabank Group to support and mentor teams of high school students to structure their projects, from ideas to presentations to a jury of international experts.
In this regard, two projects have emerged.
The first, ASYLUM, is a platform for connecting refugees with embassies, organizations, universities and other institutions around the world.
The second, MERAKI, is an innovative non-profit digital solution for inclusive education and the exchange of knowledge and skills for the benefit of learners.
In this way, Hack to the Future 4 enables young Moroccans to act as responsible players in the world of financial technology to redefine the sustainable and inclusive future of finance.
Following this participation, Eliza Broome, Head of Open Innovation – Wenov Attijariwafabank, said: "We are delighted to be part of the Finastra Global Hackathon, which inspires hackers around the world to come up with innovative ideas. This collaboration has allowed the Group's staff to deepen their knowledge of innovative technological subjects, enable young Moroccans to participate in the international movement and position the Group as a leader in innovation. "
The annual Hack to the Future hackathon, held from March 8 to April 28, is one of the largest Fintech hackathons in the world, aimed at creating a more sustainable, inclusive and financially secure world. This year's publication focused on three strategic topics: Sustainable and Inclusive Finance; integrated finance; and decentralized finance (DeFi). The release took place in more than 100 countries simultaneously with more than 2,000 hackhatonians from all walks of life, including developers, data researchers, designers, consultants, business experts in financial technology and financial professionals.
Several well-known international players have also been partners with this program, including: Betacube; Chain link; Google; Emirates NBD; MasterCard; Microsoft; Accenture; ScotiaBank; Capgemini and Villa …
————
Information about the company "Finastra"
Finastra is a multinational company founded in 1979 and based in London. He specializes in the development of financial software for capital markets, banks and other companies operating in global financial markets.
Finastra creates an open platform that accelerates cooperation and innovation in financial services, creating a better experience for people, companies and communities. With the widest and most comprehensive portfolio of financial services software, Finastra provides this vital technology to financial institutions of all sizes around the world, including 90 of the world's 100 largest banks.
.