Keith Ney and Mark Denham talk about their European fund with many assets: uncertainty about the future and long-term investment.
Lipper has just named your fund "The Best Diversified Fund in Europe". What do you attribute this success to?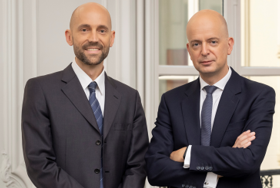 MD : Carmignac Portfolio Patrimoine Europe was launched in 2017 to offer investors a socially responsible solution with moderate risk in a constantly changing European environment. Over the past 4 years, despite a very volatile environment, our fund has managed to mitigate market downturns and participate in the upswings of both 2020 and early 2022. The fund offers investors an attractive risk / reward profile, in particular through our choice of security and our risk management strategies. In this case, the fund goes far beyond the simple distribution of bonds. As equity specialists, we conduct an in-depth analysis of our investments, ensuring that we do not accumulate risks in the portfolio. As a result, our risk management strategies have had a positive impact on the Fund's performance since its inception. Many of the tools at our disposal have both mitigated the negative risk and provided positive gross performance. However, in the long run, it is our choice of stocks and bonds that seems to be the main factor influencing the fund's performance, and that is what we want.
The foundation is based on the Heritage philosophy, which is characterized by a flexible, multi-component class and a long-term approach. What distinguishes Carmignac Portfolio Patrimoine Europe from the flagship fund Carmignac Patrimoine?
K.N. : Sharing the same philosophy does not necessarily mean investing the same. Carmignac Patrimoine Europe's portfolio is very different from Carmignac Patrimoine's European pocket. In addition to the fact that they do not have the same investment universe, which significantly affects the way they are managed, the two funds also differ in terms of choice of securities, both shares and bonds. The particularly low growth rates in Europe are forcing us to focus on global growth to make up for this shortcoming in our investment universe. Conversely, in the bond segment, tighter financial regulation and lower interest rates require a more aggressive approach to interest rate and credit markets and a desire for greater returns through greater value orientation. As a result, the two funds have very little in common and a low correlation, making them complementary to the investor's portfolio.
What are the main risks ahead and how do you plan to manage them?
K.N. : The Russia-Ukraine conflict and related economic sanctions pose a risk of stagflation, ie a slowdown in the economy combined with high inflation. Shortages of available raw materials can lead to serious disruptions in supply chains, which will negatively affect the growth and growth of prices. Although the economic outlook for 2022 already predicted slower growth and sustained inflation, this conflict is now exacerbating the economic trends we have integrated into our investment strategy. In the short term, we are mainly concerned with the management of the bear market and the associated high volatility. In the long run, this delicate environment will be an opportunity to reap the benefits of a drastic adjustment of corporate bonds and stocks to carefully select specific features and build future portfolio performance potential. Although Europe has been particularly hard hit by this geopolitical crisis, we expect a strong budgetary response from governments that can benefit certain sectors, such as renewable energy.
Can you tell us more about these promising industries about your long-term investment opportunities?
MD : The Fund has historically been committed to promising sectors such as healthcare, technology and renewable energy. Our approach to Europe is particularly selective and based on a robust process. In the current environment, we remain true to our strategic positions, which are represented by the winning companies in their industries, but we are also making some adjustments, for example, by increasing our defensive position. Thanks to risk management strategies, we can expand the risks in these promising sectors without increasing the level of risk of the fund in the short term.
Briefly about the Carmignac portfolio European Heritage
The fund was launched in 2017 to provide investors with a sustainable solution with medium risk in a constantly changing European environment. The fund is characterized by a flexible, multi-class asset class and long-term approach. His ambition is to identify promising securities in European stock and bond markets, adapting to different market configurations, including bear markets. As a result, the level of risk in stock markets can range from 0% to 50% of the portfolio, knowing that we have the ability to change that risk at any time, allowing us to respond quickly and effectively when economic conditions, political or social, seem we demand it.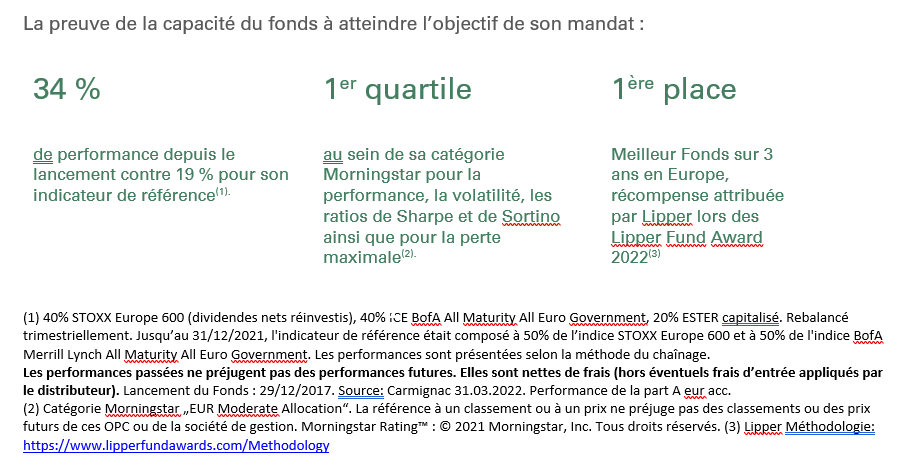 Show article warnings

---
This document may not be reproduced in whole or in part without the prior permission of the Management Company. This is not a subscription offer or investment advice. This document is not intended to provide accounting, legal or tax advice and should not be relied upon. It is provided to you for informational purposes only and may not be used by you as a basis for assessing the benefits of investing in the securities or equity interests described herein or for any other purpose. The information contained in this document may be partial and is subject to change without notice. They relate to the situation at the time of writing and come from internal and external sources that Carmignac believes to be reliable, not necessarily exhaustive, and not guaranteed of their accuracy. Therefore, Carmignac, its officers, employees or agents make no warranties of accuracy or reliability, and no liability for errors and omissions (including liability to any person for negligence). Preliminary results do not guarantee future results. They are net of fees (except for any entrance fees applied by the distributor).
Earnings can both increase and decrease due to currency fluctuations for shares that are not insured against currency risk. A reference to certain securities or financial instruments is given as an illustration to highlight certain securities that are or have been present in the portfolios of the Carmignac Series Funds. It is not intended to encourage direct investment in these instruments and is not investment advice. The management company is not prohibited from operating these tools until the notice is published. Carmignac Fund portfolios can be changed at any time.
Morningstar rating ©: © Morningstar, Inc., 2021. All rights reserved. The information in this document: – belongs to Morningstar and / or its content providers; cannot be reproduced or distributed; are not accompanied by any guarantee of reliability, completeness or conformity. Neither Morningstar nor its content providers shall be liable for any damages or damages resulting from the use of this information.
Access to the Fund may be restricted to certain individuals or countries. This document is not intended for persons in any jurisdiction where (due to the person's nationality or place of residence or for any other reason) this document or its provision is prohibited. Persons subject to such restrictions should not have access to this document. Taxation depends on the situation of each person. The funds are not registered for distribution in Asia, Japan, North America and are not registered in South America. Carmignac Funds is registered in Singapore in the form of investment funds regulated by foreign law, intended only for professional clients. The funds are not listed under the U.S. Securities Act of 1933. The Fund may not be offered or sold, directly or indirectly, for or on behalf of a "U.S. person" within the meaning of U.S. and FATCA rules. The risks and costs associated with the Funds are described in KIID / KIID (Key Investor Information Paper). DICI / KIID must be available to the subscriber before subscribing. The subscriber must read DICI / KIID. Investors may lose all or part of their capital because the Funds do not provide capital guarantees. Any investment in the Funds is associated with the risk of capital loss.
The Prospectus, KIID / KIID, NAV and the Fund's annual reports are available at www.carmignac.com or on request from the Management Company. Carmignac Portfolio is a sub-fund of SICAV Carmignac Portfolio, an investment company governed by Luxembourg law that complies with the UCITS directive. The management company may decide to stop marketing in your country at any time. Investors can access a summary of their rights in French at the following link in Section 6, entitled "Investor Rights Summary": https://www.carmignac.fr/fr_FR/article-page/informations-reglementaires-3862
In Switzerland: the prospectus, KIID and annual reports of the Funds are available on the website www.carmignac.ch and from our representative in Switzerland (Switzerland) SA, Route de Signy 35, PO Box 2259, CH-1260 Nyon. The payment service is CACEIS Bank, Paris, Switzerland Route de Signy 35, 1260 Nyon. Investors can access a summary of their rights in French at the following link in Section 6, entitled "Investor Rights Summary": https://www.carmignac.ch/fr_CH/article-page/informations-reglementaires-1789
Copyright: The data published in this presentation is the exclusive property of their owners, as indicated on each page.
---