Russia has again pumped gas into the Nord Stream 1 gas pipeline after a 10-day maintenance shutdown. But the situation remains very alarming, because Russian exports are 30-40% of the pre-war level. And Russia can completely stop exporting gas to Europe at any time.
This will depend on the supply of Western weapons to Ukraine and their impact on the advance of the Russian army in Ukraine, as well as on Western sanctions. Regarding the latest sanctions, the EU will ban the import of gold of Russian origin and freeze certain assets of the Sberbank bank, but under international pressure, in particular from Africa (more than 50% of wheat imports are from Russia and Ukraine), the EU should relax some sanctions against Russian banks to facilitate the transportation of grain from Russia and Ukraine. It is important that world trade in agricultural and food products does not stop.
But the risk of Russia cutting off gas is significant. You have to prepare for it. The International Energy Agency (IEA) recommends a 30% reduction in gas consumption and has issued ten recommendations to achieve this, which mainly relate to the use of vehicles. The EU wants to reduce gas consumption by 15%, which will allow to counter the possible termination of Russian gas supplies, in particular by reducing the heating and air conditioning of buildings. Politicians do not yet dare to talk about rationing, but emphasize the duty of citizens to save gas and oil for the next winter. Although the situation is accelerating in Germany, with some municipalities turning off hot water in public infrastructure at night, a large property owner has warned that heating will be limited to 17 degrees next winter, and a large group is considering a return to working from home next winter. to avoid heating the offices. According to the IMF, Germany is the country most at risk, with a potential cumulative GDP loss between 2022 and 2024 of 4.8% compared to 2020 GDP. We are not going to avoid restrictive measures, as in private transport and heating, but they must be done in a European levels, and they will be introduced after the summer holidays, we believe.
European countries are not in the same boat. Some countries are 100% dependent on Russian gas.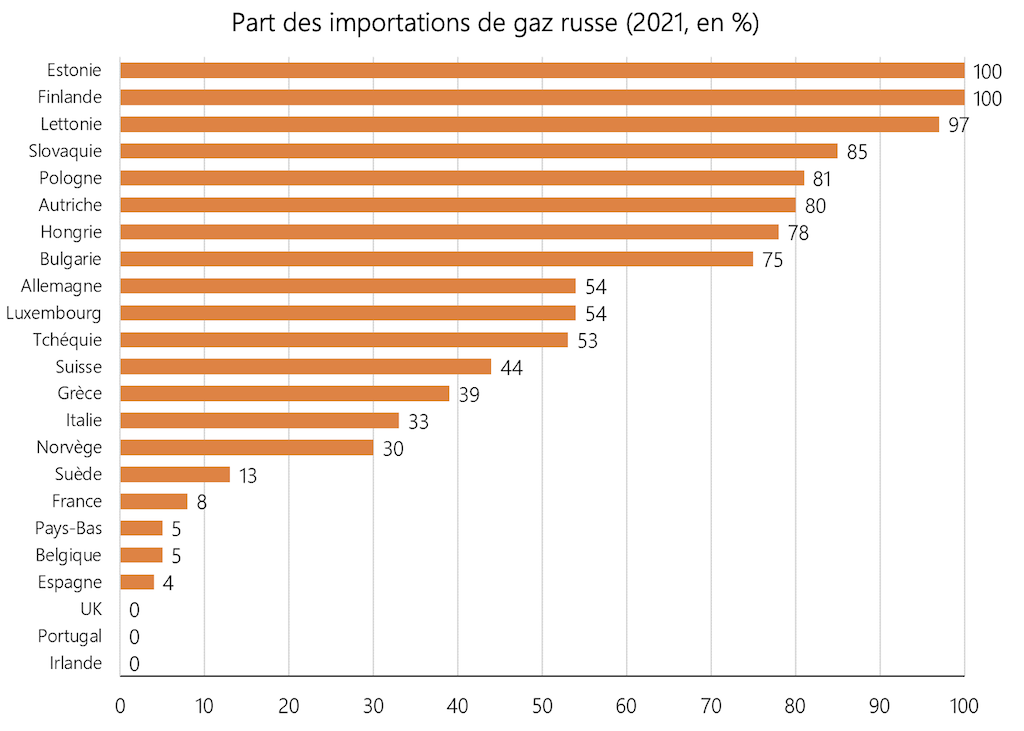 Europe announced that gas reserves were 55% full at the beginning of July, compared to 45% a year earlier. The European Commission aims for a level of at least 80% by 1 November 2022 and at least 90% by 1 November 2023. France wants 100%. Will it be enough to warm Europe this winter? We will have to combine stocks, which will not be easy, because 5 countries combine 75% of storage capacity: Germany, Italy, France, the Netherlands and Austria. The best position is Portugal with 100% filling of reserves, followed by Poland, Denmark, the Czech Republic and Spain. On the other hand, Belgium, Italy, Austria, Slovakia, the Netherlands, Romania, Hungary and Bulgaria have insufficient occupancy rates.
In 2021, the European Union consumed 400 billion cubic meters of gas (bmc). Of this 400 billion, 90% was imported, i.e. 155 billion from Russia and 205 billion from other suppliers, mainly from Norway and Algeria. In January 2022, the United States imported 4 billion cubic meters of LNG and committed to deliver 20 billion cubic meters of LNG by the end of 2022 and 60 billion cubic meters by the end of 2023. The total capacity of natural gas storage facilities in Europe is 110 billion cubic meters. The largest storage facilities are located in Germany (22% of the total), Italy (18%), the Netherlands (13%), France (12%) and Austria (9%).
In summary, Europe is in a tight spot, and if Russia completely stops exporting gas to Europe, it is obvious that the European Union will not have enough gas for its annual consumption. With reserves at 80% full, Europe will have enough gas to see it through the winter. In terms of annual consumption, the balance will be largely in deficit, a situation that will continue beyond 2022. Within one year, there will be a deficit of 130 billion m3, i.e. 30% of the EU's needs, which explains why the IEA recommends a 30% reduction in consumption.
Two conclusions suggest themselves: in the short term rationing is inevitable, and in the medium and long term, other suppliers need to be found quickly. On the negative side, this context of the crisis revives interest in coal for at least the next two years – Europe has no choice – and on the positive side – the EU will accelerate investments in renewable energy sources. In terms of investment, we avoid European companies involved in distribution infrastructure and the purchase of Russian primary energy. We buy power producers with a significant environmental component such as RWE, Iberdrola, SSE, Orsted for the larger ones and Solaria, Neoen, Encavis for the smaller ones. We are also buying Equinor and Cheniere Energy.
Heravest SA is an independent boutique providing top-to-bottom investment advice and investment solutions.
Popilna Street 12-14
CH-1201 Geneva
T +41 22 715 24 40