In 2022, the utilities sector (-8%) will outpace the global index by 12%. The sector is defensive and tends to perform better during economic downturns or recessions.
U.S. utilities are outperforming European utilities as Europe faces a severe energy crisis that is hurting major historical power producers.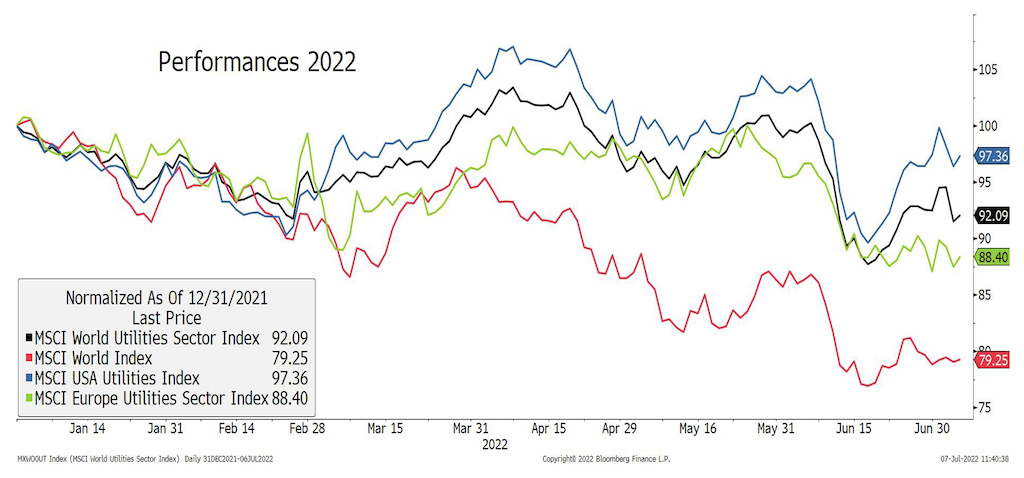 Russia has sharply reduced gas exports to Europe. French energy companies have sounded the alarm about the French's responsibility to cut consumption to maximize reserves for next winter. This will not be enough, strong and, unfortunately, mandatory political acts are needed. For all of Europe.
German energy company Uniper is doing badly, very badly. The main activities of the company are the purchase and sale of gas and coal, transportation and storage, as well as the operation of several coal and gas plants for the generation of electricity. The price of its shares fell by 60% after the Russian invasion of Ukraine. In 2021, Uniper's revenue was 163 billion euros. Choked by the explosion of gas prices and a sharp reduction in supplies from Russia, Uniper is in a delicate financial situation. 54% of the volume purchased by Uniper came from Russia. If Moscow completely shuts off the gas tap, Uniper will go bankrupt and will have to be supported by Berlin. Uniper is running out of money and since mid-June has received less than 40% of the gas volume under contracts with Gazprom. Before the war, Uniper was already in a difficult situation. Uniper has bet on Russian gas and coal, while its rivals Engie and RWE have significantly increased capacity in their renewables.
It's starting to look like the Lehman Brothers of European energy. Bankruptcy would have devastating consequences for Germany's energy economy and security, taking down hundreds of utilities and electricity suppliers; and possibly outside of Germany. Domino effect.
30 years ago, Europe liberalized the energy market to lower prices for consumers. Today, it understands that it cannot leave energy in the hands of the market, and we will witness a wave of nationalization. Berlin should nationalize Uniper, France should do the same with EDF, and the UK with Bulb Energy. The reason: there is not enough fossil fuel for everyone, and Russia is limiting gas exports. France is struggling with old nuclear power plants (it stopped investing 10 years ago). The price of Dutch gas, the base price in Europe, has been multiplied by 8 for 8 months and the trend remains the same in 2023. The cost becomes enormous for households and industry, particularly for chemicals and steel. Experts do not expect a rebalancing of the market before 2024. Next winter promises to be severe, and there is no doubt that rationing measures will soon arrive to fill the reserves by 100%. After "whatever the cost" of Covid, European states are putting tens of billions on the table in the form of direct subsidies and tax cuts to ease household bills.
The G7 is looking for a mechanism to limit Russian oil and gas prices. The JPMorgan study points to a big risk in wanting to cap Russian energy prices, as Russia could completely stop exporting oil, ie 5 million barrels per day, without a significant impact. For JPMorgan, such a scenario will lead to an increase in the price of oil to 380 dollars per barrel! The main difficulty will be to convince a large number of consumer countries and insurers. We doubt that everyone follows such a mechanism.
Still, we recommend investing in power producers, particularly those with a significant share of renewable energy. They will come out of this crisis stronger, especially the smaller players. The sector is "too big to fail"; nationalization or partial participation will occur. We are buying RWE, Iberdrola, Orsted and SSE in Europe, as well as Excelon and Constellation Energy in the US. We buy Neoen, Solaria and Encavis from small European green producers.
Heravest SA is an independent boutique providing top-to-bottom investment advice and investment solutions.
Popilna Street 12-14
CH-1201 Geneva
T +41 22 715 24 40