The recently opened competence center of the world leader in the production and supply of equipment for processing aluminum, PVC and steel profiles offers many opportunities for presentation, training and testing of the entire elumatec product line and is unique in the industry.
In May 2022, elumatec AG opened the doors of its new information center as part of a small pandemic committee. The industrial center near the company's headquarters in Muelker has recently developed a modern, bright and representative infrastructure, the central element of which is a hall of more than 2,000 square meters, which presents all elumatec products. Offices, conference rooms and delivery rooms are also part of a completely renovated building complex, which will be available in the future to customers around the world, as well as elumatec employees, for example, in after-sales service – sales and distribution, for various uses. .
"The new information center is a big investment for us – in many ways," says Paolo F. Bianchi, managing director of elumatec AG.
"On the one hand, we have long and consistently pursued the goal of implementing in the elumatec group a highly professional concept of demonstration, training and product development on a global scale. Thanks to the new information center in Muelker, we have managed to take another step towards the highest level of quality and technology. After the centers of competence were opened by our subsidiaries in North America in Southband, Indiana and China in Shanghai, we were able to open the third elumatec information center in the head office with the German flagship, "Bianchi continues.
Yvonne Wirz, Managing Director of elumatec in France, adds: "We work closely with our customers and know their needs: market demands, customer desires and challenges from different sectors are becoming more personalized and complex. Therefore, it is all the more necessary to be able at any time and in a flexible way to present our products in a comprehensive way, as well as conduct individual and specific tests, training and instruction for and with our customers, in an internal environment designed for this purpose. This interaction with our customers is a driving force for us to optimize and develop our products, and it is crucial for success – the success of our customers, and therefore ours. Therefore, this information center is also an investment for our customers. »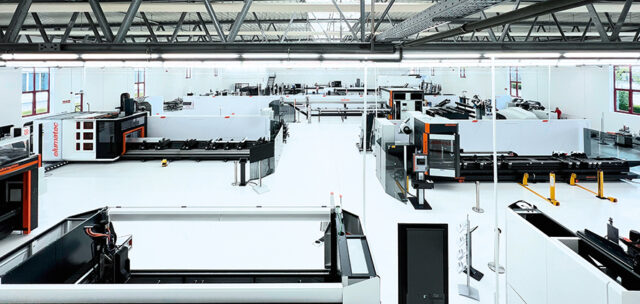 Over its 90-year history, the company has grown from a craft company to a global company. Since 2014, the elumatec group of companies has been part of the Italian holding company Voilap. This approved not only the investment needed for the information center, but also the acquisition of the administrative and production buildings of the head office, which have been leased so far – a clear commitment of the parent company in favor of Mühlacker in Germany.
By the way, in the recently opened information center, in addition to the elumatec range and Office Service solutions, you can see at least three new developments in the field of CNC, rod processing centers SBZ 118, SBZ 125/85 (available, according to our forecasts, from the 1st quarter of 2023) and SBZ 155 (available, according to our forecasts, from the 1st quarter of 2023), as well as products from the new brand of Voilàp Someco.