Total assets managed by responsible investing grew by 6% year over year. The group intends to join the Net Zero Alliance Managers initiative by the end of 2022.
The Edmond de Rothschild Group publishes its 2021 Sustainability Report. This 8th edition articulates the group's beliefs and priorities in the face of environmental and societal challenges and affirms its commitment to putting finance at the service of the real economy.
2021 has become a key year for Edmond de Rothschild Group's sustainable development strategy. This confirmed that the group's unique positioning in terms of responsible investment was sustainable and sustainable even in the face of a unique crisis.
As such, the group today continues its commitment to investing in innovative economic and social models, developing a long-term culture and cultivating a desire for positive change and impact.
That's why this year, our commitment to sustainable financing aims to support the transition to more sustainable economic models and impact on the environment, agriculture, infrastructure, sustainable development and education. We use investment in all its forms to create a more sustainable world.
Our approach is inclusive and progressive. This leads us to concrete actions and investment decisions aimed at having a positive impact on the real economy. As such, the group intends to join the Net Zero Alliance Managers initiative by the end of 2022.
We implement our goals and projects within our five priority areas: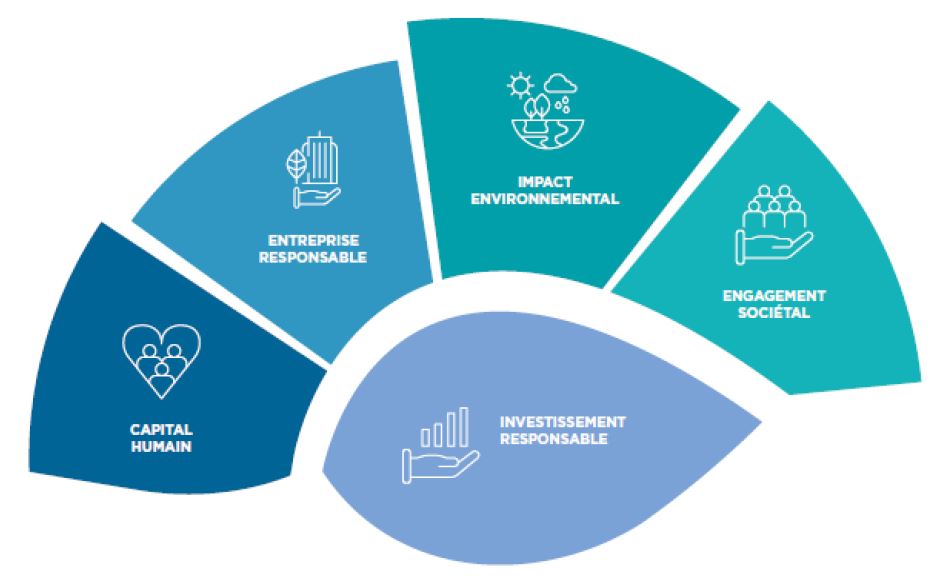 SIGNIFICANT PROGRESS IN FIVE TABLES of the group in 2021
Responsible investing
29.4 billion francs of assets under responsible investment management (+6%)
100% of our open-end funds have calculated their carbon footprint
100% increase in the number of Mandates for responsible investment in private banking
Increase of assets in real estate portfolios by 45%, guided by the policy of sustainable development
More than 80% of our open-end funds meet the highest SFDR requirements
Responsible company
10,816 hours of business ethics and compliance training
Over 100 business ethics and compliance topics covered during training
87.5% of independent members of the Board of Directors
Human capital
28,164 hours of training are provided
27.4% of recruitment from internal mobility
43 nationalities within the group
45% of women are promoted
Impact on the environment
48,380 trees have been planted since 2017 through our planting program
23,091 t equiv. CO2 compensated from 2017
Reduction of paper consumption by 68% since 2014
Social commitment
109 smallholder coffee farmers in Nicaragua supported through our implementation program for farm sustainability and income growth
15 thematic direct investment strategies with a positive impact on society
Since 2013, more than 100 startups have benefited from the collective experience of our employees
The Edmond de Rothschild Group has been a member of the UN Global Compact (UNGC) since 2011. The annual report is a Communication on Progress (COP) and defines its contribution to the achievement of the UN Sustainable Development Goals (SDGs). It was prepared in strict compliance with the Global Reporting Initiative (GRI) standards. Key performance indicators were verified by PricewaterhouseCoopers, a member of the PwC international network.