" You can make a fortune on cryptocurrency ", says Jim Cramer, a skeptic who recently switched to Bitcoin. However, many crypto enthusiasts are not shy about warning against his advice. We explain why.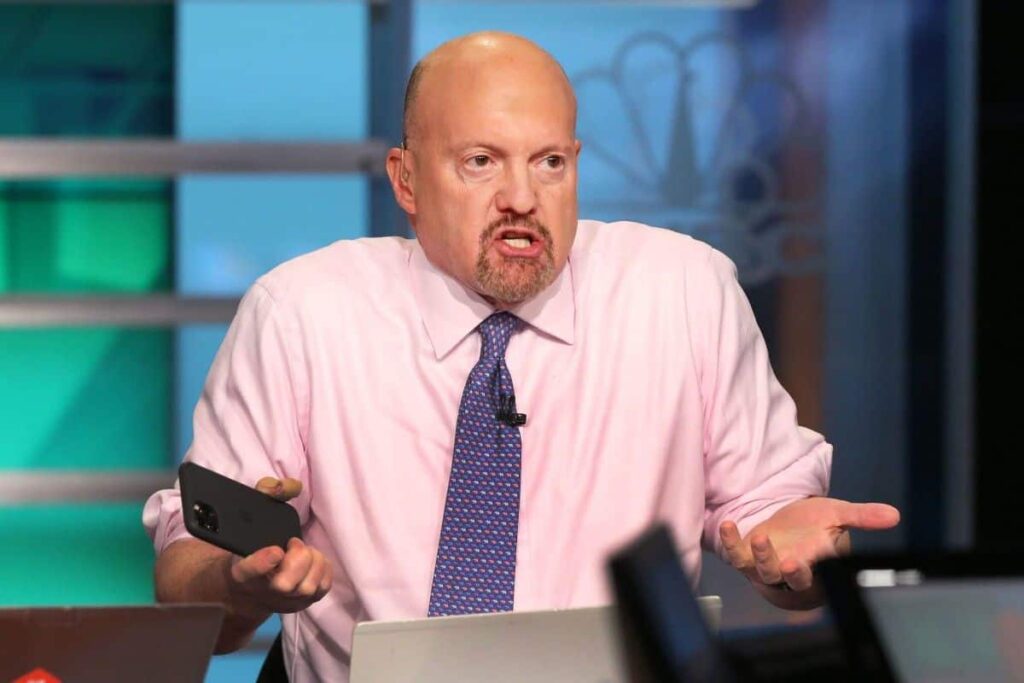 Kramer advises investing 5% of your savings in bitcoins
Jim Cramer was known as a staunch supporter of traditional finance long before 2018. This was at a time when Bitcoin had fallen to $6,000 per coin. Two years later, the world was surprised by Kramer's turnaround. Indeed, the "Mad Money" host announced that there are fortunes to be made in the cryptocurrency universe.
In an interview with CNBC Make It, Cramer admitted that he holds ethereum. Reason for this purchase? His intent to profit from NFTs was launched during a charity event.
" I had to buy it on Ethereum so I did some research and it has qualities I like." vindicated by the one who previously claimed that there was no "There is no real value in cryptocurrency At one time, Jim Cramer even went so far as to predict the further fall of the crypto market.
After his repentance, he did not hesitate to support ETH and BTC. He also gave some advice to investors, namely:
never borrow money to buy crypto-assets;
don't put them in the same category as Coca-Cola, Procter & Gamble, Apple, etc. ;
and not to invest more than 5% of our savings in cryptocurrencies;
etc.
He recently welcomed the opening of the Securities and Exchange Commission's (SEC) investigation into Coinbase. Indeed, the latter would offer to trade" securities » are not registered with the regulator.
" I have been waiting a long time for this SEC investigation into Coinbase. Now we are here. You can't do whatever you want with titles in this country… ", he wrote on Twitter.
He is not as holy as he looks
They do not have cryptocurrencies no real value ", Jim Cramer launched at a certain time. The advice he gave here and there would not seem to be enough to restore his reputation.
Some crypto-enthusiasts, such as John E. Deaton, go so far as to criticize him on Twitter, posting the following messages:
" I'm sorry @jimcramer but I have to admit your comment is the most bullish sign for crypto in weeks ".
On Quora, the founder We trust Bitcoin also warned bitcoiners about it stock sampling noting:
" Beware of Jim Cramer and his famous advice about the world of cryptocurrencies or the stock market… »
Didn't he emphasize that he entered the world of cryptocurrencies as a "gamer"?
" I didn't buy Bitcoin or Ethereum to hedge against inflation. To be honest, I played. However, I was just playing on the psychology of the crowd, and I don't know why these things went up, except that there are a lot of over-enthusiastic people who want to buy higher and sell higher. »
This is indeed the theory of the greatest madman, which Bill Gates did not hesitate to associate with cryptographic assets when he spoke on the subject.
Let's also not forget that Cramer was a real fan of Coinbase two years ago. Now that the US stock market is in good shape, it is switching sides. Deaton did not appreciate the gesture.
As for the question " should we be wary of Kramer the answer depends on each investor. If the use of the word "game" is frowned upon by owners and bitcoiners, newcomers may perceive it as something that reduces the risks associated with this adventure. Because the level of risk tolerance differs from one person to another. And given the volatility of Bitcoin and other cryptocurrencies, using 5% of your savings seems more reasonable. At this point, the ball is in your court.
Sources: CNBC; Nasdaq; U°today
Get a round-up of news in the cryptocurrency world by subscribing to our new daily and weekly newsletter service so you don't miss any important Cointribune news!
Mikaya ANDRIAMAHAZOARIMANANA
The blockchain and crypto revolution continues! And on the day when the consequences are felt by the world's most vulnerable economy, against all hope, I will say that I had something to do with it