But this new partnership represents a new opportunity for this program. Although it initially covered small or even micro-SMEs, which make up almost 78% of financial services companies in Canada, according to figures mentioned by President Tchat N Sign, it will now be more accessible to the more important.
"The agreement we have just signed gives confidence to these key institutions. If Equisoft recognizes us, so does they. That's where change is important to us, "said the president and creator of Chat N Sign in an interview with Finance and investment.
Opportunity also for Equisoft
If this partnership is a great opportunity for Tchat N Sign, it is also great news for Equisoft. "Equisoft intends to create a Marketplace for its CRM in the future. But before that, they were looking for players like me who added value to their users with the tools they developed, "says Willie Savard.
"Equisoft Connect is at the heart of the advisor's work, and we are always looking for partners who can add value to our tools and simplify the work of the advisor," said Francois Levasser, vice president of global alliances and acquisitions, Equisoft, e-mail.
Recall that Tchat N Sign allows, in particular, to collect all communications between the client and the advisor. In addition, as the client communicates via Facebook, Messenger or even via SMS, everything is in the same application. This facilitates the work of the advisor, but also allows you to follow the rules. Not to mention that internal chat is also available for assistants, who can thus communicate with the client or advisor, and all these communications are consolidated in the client file.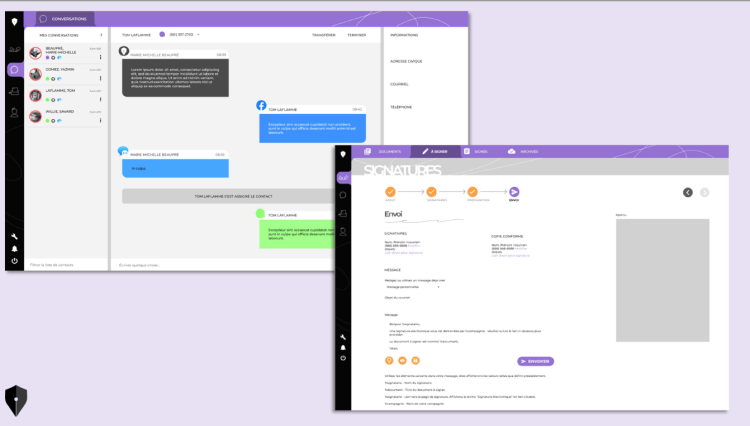 To enlarge this image, click here.
In addition to these means of communication, LinkedIn and the website will also be integrated in the coming months.
Thus, in addition to uniting a wide range of means of communication in one place, Chat N Sign also allows you to integrate virtual fax, IP telephony and, as the name suggests, use an electronic signature.
Within two years, as his electronic signature was not accepted by the entire industry, Willie Savard decided to integrate OneSpan as the second version of the electronic signature, which provides access to 100% of financial actors and insurers.
An application created by the advisor
At first, Willie Saward created this program because he was disappointed that he could not find tools that would meet his needs. "Not finding anything satisfactory, I decided to develop my own tool and make it available to other consultants," he explains. An initiative that did not fail to seduce Equisoft.
"The partnership with Chat N Sign is quite natural, as Willie himself is an advisor and user of Equisoft Connect. He has developed this tool to improve compliance and productivity, and we are very pleased that his platform is being used by more and more consultants through the Equisoft ecosystem, "says François Levasser.
Note that since the launch of the program, Willie Saward and his team have somewhat changed his identity. In order for people who speak French and English to pronounce the name in the program the same, Tchat & Signe has become Tchat N Sign.