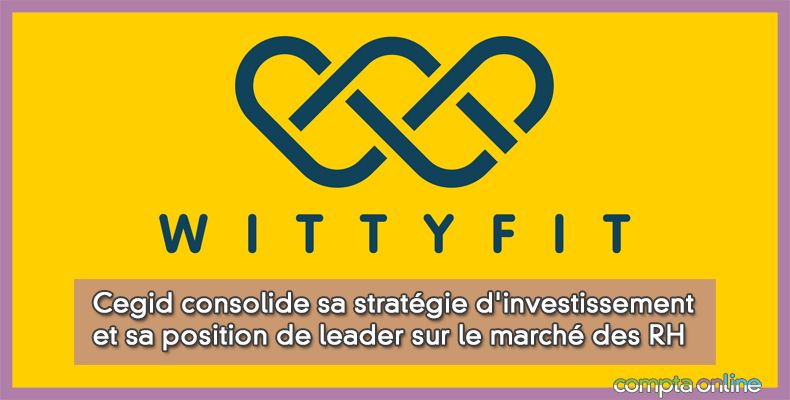 Press release, Paris, June 8, 2022
Cegid, a leader in cloud management solutions for professionals in human resources (payroll, talent management), finance (ERP, treasury, taxes), accounting, retail and entrepreneurship, announces the acquisition of Wittyfit, a French company founded in 2014 year, headquartered in Paris and has about twenty employees.
The Wittyfit platform complements Cegid's talent management offering, Cegid Talentsoft, by allowing HR managers of medium and large companies to offer new experiences to employees in sustainable performance.
Wittyfit enables organizations to measure, analyze, and act on job satisfaction, employee engagement, and monitoring to increase collective efficiency through a single SaaS platform.
Cegid supports the transformation of the work world by simplifying processes and allowing HR teams to devote most of their time to business experience. Thus, the Wittyfit platform complements Cegid's HCM portfolio, including Cegid Talentsoft's talent management. By capturing the feelings evoked, for example, by new working conditions: telecommuting, flexible office, mobile work, outsourcing certain functions, HR departments and managers can understand and act on the levers of human capital that steadily improve the company's efficiency. .
Wittyfit is used both by staff – to respond confidentially to surveys and offer suggestions – by managers – to turn ideas into concrete actions and provide follow-up – and by human resources – to collect KPIs, analyze and manage collective performance. Plug and Play, Wittyfit already has 120,000 users, including teams
Cegid, who are one of its customers and will continue to use its solutions.
A true dashboard, Wittyfit was the first platform in France capable of measuring job satisfaction in real time. It is now the leading solution for human factor management in companies, says Pascal Uyon, CEO of Cegid. With the acquisition, Wittyfit Cegid is strengthening its investment strategy and market leadership in cloud and talent management. Our goal is to accelerate the development of Wittyfit in France and then very quickly internationally, particularly in Spain.
Two co-founders, Thomas Cornet and Samuel Devavrin, as well as all Wittyfit employees, join Cegid and its HCM Business Unit under Mark Bruzzo.
About Tsegid
Cegid is a leader in cloud management solutions for professionals in finance (Treasury, Tax, ERP), Human Resources (Salary, Talent Management), Accounting, Retail and Entrepreneurship. With a reliable full-fledged business model, Cegid is committed to long-term customer service and supports the digitalisation of companies, from very small businesses to large accounts, to gain a great and unique experience in France and abroad. Cegid combines a promising and pragmatic vision of business areas, its powerful potential for innovation, mastery of new technologies and unique knowledge of regulations. In a rapidly changing world, Cegid opens up opportunities and reveals the full value of its customers' business by providing them with useful and innovative solutions.
Thanks to its international ambitions, Cegid now has 3,600 employees and sells its solutions in 130 countries. Cegid's annual revenue was 632 million (as of December 31, 2021). Pascal Uyon joined Cegid in March 2017, he is the CEO.
About Wittyfit
Wittyfit is an employee experience management platform that supports companies on all issues that affect their human capital (managing commitment procedures, quality of life at work, preventing psychosocial risks, or even project management). The digital solution makes it possible to understand and act on the levers that improve individual commitment and, consequently, collective productivity.
Wittyfit focuses primarily on ETI and large accounts, all sectors together, and helps support three types of people in the company (employees, managers and management) by offering functionality tailored to their needs. According to the logic of continuous improvement, the platform regularly develops in response to the expectations of its customers.
Founded in 2014 by Thomas Cornet and Samuel Devavrin, the startup currently has 20 employees, about 2 million ARR and supports just over 70 customers.