While bonds can suffer from rising interest rates and prices, there are ways to save capital in such conditions.
Rising energy prices, deficits in several areas of activity, expectations of potential wage increases … The current environment is conducive to inflation. To limit the price spike, some central banks that regulate economic activity withare in the process of reviewing their behaviorin particular, raising their interest rates after more than a decade of keeping them extremely low.
However, these various increases do not affect the value of credit and the valuation of financial assets in general, including bonds, these securities, through which the state or company finances its activities and development, borrowing money in exchange for remuneration. .
In fact, fluctuations in interest rates affect the value of bonds, which falls as rates rise. As for inflation, it will weigh on the real profitability of the investor, rising prices will reduce the real yield of the bond.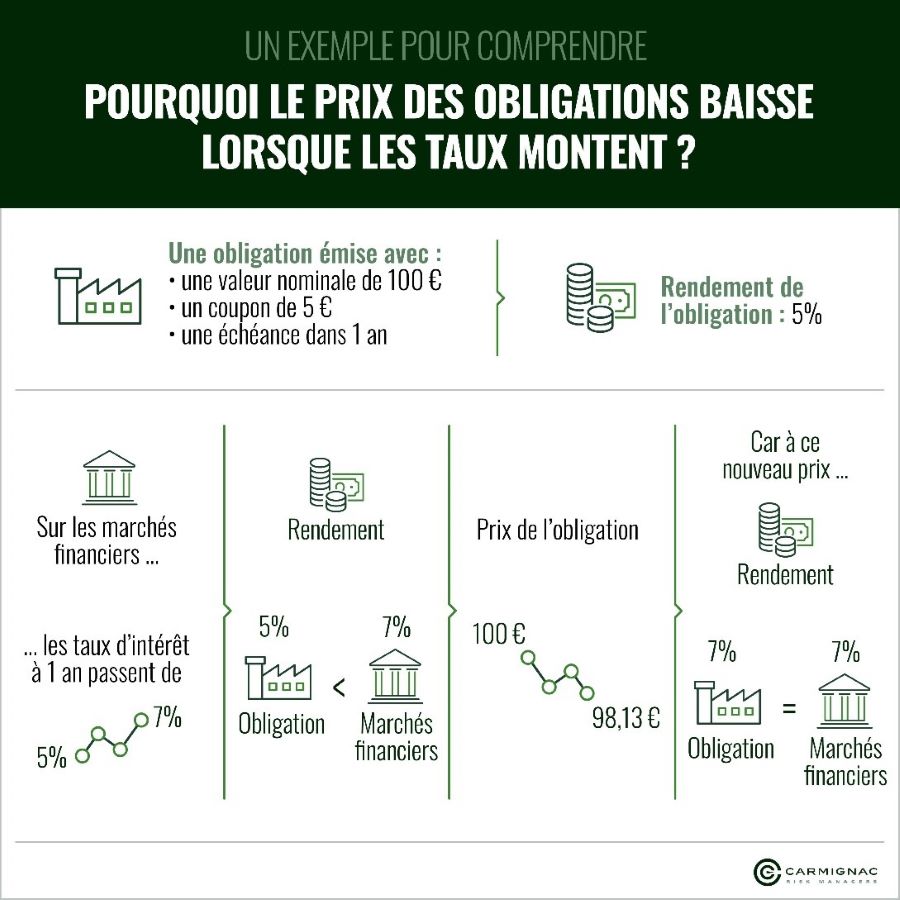 Therefore, investors may logically wonder about the interest rate of the loan if the real yield and value of the securities they have decrease. This question also arises for individuals whose savings invested in life insurance are denominated in euro (1), who invest heavily in bonds.
How to protect your investment in this context?
First of all, there are special bond products, such as inflation-linked bonds, the advantage of which is that they have a coupon (interest paid) and the value of redemption, indexed to inflation. In other words, the interest paid by the borrower and the repayment of capital develop in line with inflation, thus keeping the investor from evolving prices.
In addition, as it allows you to identify opportunities and choose which securities to invest in, active governance (2) can help diversify investments, protect them from certain risks and increase efficiency.
Active portfolio management may also make it possible to use so-called hedging instruments. These are appropriate financial instruments – better known as derivatives – that can protect your portfolio from price fluctuations or interest rates or even allow you to profit from them. For example, buying derivatives that take into account the prospects of price developments can offset the adverse effects of inflation.
The investor's ability to invest money around the world is another way to take advantage of geographical differences and / or diversify risk. As growth dynamics may vary from one country to another, price and growth rates can be very heterogeneous depending on the regions of the world. Companies from so-called developing countries, for their part, can offer higher returns because of a risk profile that is considered higher than that of European or American companies.
Who to entrust your savings to?
For an individual, investing directly in bonds can be difficult when the value of their issue (or face value) can reach several tens or even hundreds of thousands of euros. Therefore, it may be easier to do this through an investment fund. It is still necessary for these funds to be able to cope with such an environment during periods of rising rates or prices. Thus, it may be an opportunity for savers to check the capacity of the funds in which their money is placed.
At Carmignac, we have the skills – over 50 international analysts and managers – and experience –our first bond fund was established in 1989– respond to such questions. The ability to effectively manage market risks, as during the 2008 financial crisis or the Covid-19 crisis in 2020, has also been a cornerstone of Carmignac's management style for many years. .
This culture of risk management, our independent research tools, the beliefs of our international managers and the synergy of ideas between our different teams are the pillars of our active investment approach. An approach that aims to achieve our customers' long-term savings goals. In the fixed income universe, we offer several investment solutions with funds that have access to all types and all categories of bonds around the world. (Discover our range of bonds)

Show article warnings

---
This document may not be reproduced in whole or in part without the prior permission of the Management Company. This is not a subscription offer or investment advice. This document is not intended to provide accounting, legal or tax advice and should not be relied upon. It is provided to you for informational purposes only and may not be used by you as a basis for assessing the benefits of investing in the securities or equity interests described herein or for any other purpose. The information contained in this document may be partial and is subject to change without notice. They relate to the situation at the time of writing and come from internal and external sources that Carmignac believes to be reliable, not necessarily exhaustive, and not guaranteed of their accuracy. Therefore, Carmignac, its officers, employees or agents make no warranties of accuracy or reliability, and no liability for errors and omissions (including liability to any person for negligence). Preliminary results do not guarantee future results. They are net of fees (except for any entrance fees applied by the distributor).
Earnings can both increase and decrease due to currency fluctuations for shares that are not insured against currency risk. A reference to certain securities or financial instruments is given as an illustration to highlight certain securities that are or have been present in the portfolios of the Carmignac Series Funds. It is not intended to encourage direct investment in these instruments and is not investment advice. The management company is not prohibited from operating these tools until the notice is published. Carmignac Fund portfolios can be changed at any time.
Morningstar rating ©: © Morningstar, Inc., 2021. All rights reserved. The information in this document: – belongs to Morningstar and / or its content providers; cannot be reproduced or distributed; are not accompanied by any guarantee of reliability, completeness or conformity. Neither Morningstar nor its content providers shall be liable for any damages or damages resulting from the use of this information.
Access to the Fund may be restricted to certain individuals or countries. This document is not intended for persons in any jurisdiction where (due to the person's nationality or place of residence or for any other reason) this document or its provision is prohibited. Persons subject to such restrictions should not have access to this document. Taxation depends on the situation of each person. The funds are not registered for distribution in Asia, Japan, North America and are not registered in South America. Carmignac Funds is registered in Singapore in the form of investment funds regulated by foreign law, intended only for professional clients. The funds are not listed under the U.S. Securities Act of 1933. The Fund may not be offered or sold, directly or indirectly, for or on behalf of a "U.S. person" within the meaning of U.S. and FATCA regulations. The risks and costs associated with the Funds are described in KIID / KIID (Key Investor Information Paper). DICI / KIID must be available to the subscriber before subscribing. The subscriber must read DICI / KIID. Investors may lose all or part of their capital because the Funds do not provide capital guarantees. Any investment in the Funds is associated with the risk of capital loss.
The issue prospectus, KIID / KIID, NAV and the Fund's annual reports are available at www.carmignac.com or on request from the Management Company. Carmignac Portfolio is a sub-fund of SICAV Carmignac Portfolio, an investment company governed by Luxembourg law that complies with the UCITS directive. The management company may decide to stop marketing in your country at any time. Investors can access a summary of their rights in French at the following link in Section 6, entitled "Investor Rights Summary": https://www.carmignac.fr/fr_FR/article-page/informations-reglementaires-3862
In Switzerland: the prospectus, KIID and annual reports of the Funds are available on the website www.carmignac.ch and from our representative in Switzerland (Switzerland) SA, Route de Signy 35, PO Box 2259, CH-1260 Nyon. The payment service is CACEIS Bank, Paris, Switzerland Route de Signy 35, 1260 Nyon. Investors can access a summary of their rights in French at the following link in Section 6, entitled "Investor Rights Summary": https://www.carmignac.ch/fr_CH/article-page/informations-reglementaires-1789
Copyright: The data published in this presentation is the exclusive property of their owners, as indicated on each page.
---