High-tech equipment maker Aixtron is currently thriving. Investors who are willing to take risks can take full advantage of this success thanks to the leverage-backed securities offered by Swiss DOTS.
"Happiness never comes alone": this may be the new saying of Ikstron. Not only are the figures presented a few days ago in the first quarter impressive, but the stock price is also about to benefit from a strong buy signal according to the technical indicator. The 100-day moving average is indeed on the way to crossing the 200-day moving average – this is called the "golden cross", one of the most famous signals of high momentum. So now is the perfect time to take a closer look at the high-tech German equipment manufacturer.
Strong demand provides double-digit growth
Many car manufacturers are now suffering from falling demand. Thus, with the war in Ukraine, new orders in March were lower than last year in Germany, for the first time since early 2021. However, at Aixtron the situation is completely different: managed by the energy saving sector. Power electronics GaN, new orders increased by 5% from January to March. Thus, the total portfolio of orders increased by 16% and reached 260.4 million euros. Other activities – power electronics and optoelectronics for lasers – have also contributed. "As expected, the demand for our technology remains as high," said Felix Gravert, CEO. According to Berenberg analysts, Aixtron is likely to maintain double-digit growth in orders in the medium term.
This influx of orders promises the continued success of Aixtron. The company started 2022 with a bang: in the first quarter, turnover increased by 79% to 88.6 million euros. Therefore, the company accelerated its growth rate even more, as in the fourth quarter of 2021 its growth was "only" 44%. This strong impulse allowed the operating result (Ebit) to become positive again. The board has confirmed its targets for the year: a turnover of 450 to 500 million euros and an Ebit margin of 21% to 23%. To give an idea, Aixtron surprised last year with a profit of 22.6%, which could well be repeated in 2022.
Technical advantage as the key to success
If the near future seems to be smiling at the manufacturer of chips and LEDs, its medium-term and long-term prospects do not seem to be superior, as the German company now seems inevitable. A recent study by consulting firm Gartner shows that in 2021, Aixtron's market share in semiconductor deposition plants has grown for the sixth year in a row, now reaching 75%. "This trend should continue in the coming years, and thus Aixtron is more and more in a monopoly situation with a significant reassessment of the name. This is exactly what we are seeing for the ASML chip supplier in the lithography market, "explains Olivia Honicherch, Jefferies analyst. This type of deposit equipment is required for both servers and smartphone batteries or even the 5G network.
The company's technical advantage is not the result of chance, as it invests heavily in the future. Last year, at least 13.2% of turnover was spent on research and development (R&D). Thus, Aixtron is an exception in the mechanical engineering sector, where the average level of research and development is about 4%. Companies don't even have to envy the IT sector. According to Ernst & Young, the average level of research and development of major European groups in this field in 2018 reached 12.6%.
A smart investment
All green signals for Aixtron, both fundamental and technical indicators. The company is reaching new heights. Those who want to take advantage of this powerful dynamic should be interested in the Société Générale Factor Certificate (value 112199076), a product that offers a lasting leverage effect 4.
Although factor certificates are particularly suitable for short-term speculation, unlimited turbo warrants are the best product for betting on the medium-term trend. More cautious investors may choose a slightly lower level of leverage for added security. Long turbo (value 118008348) offers a multiplier of 3.0 and a difference of 27% compared to the stop threshold (19,695 euros). The SocGen derivative (value 118846605) is slightly more offensive, with a leverage of 5.1. The knockout is 23,685 euros and thus leaves only 12% of the difference with the base.
Aixtron chart (over 1 year)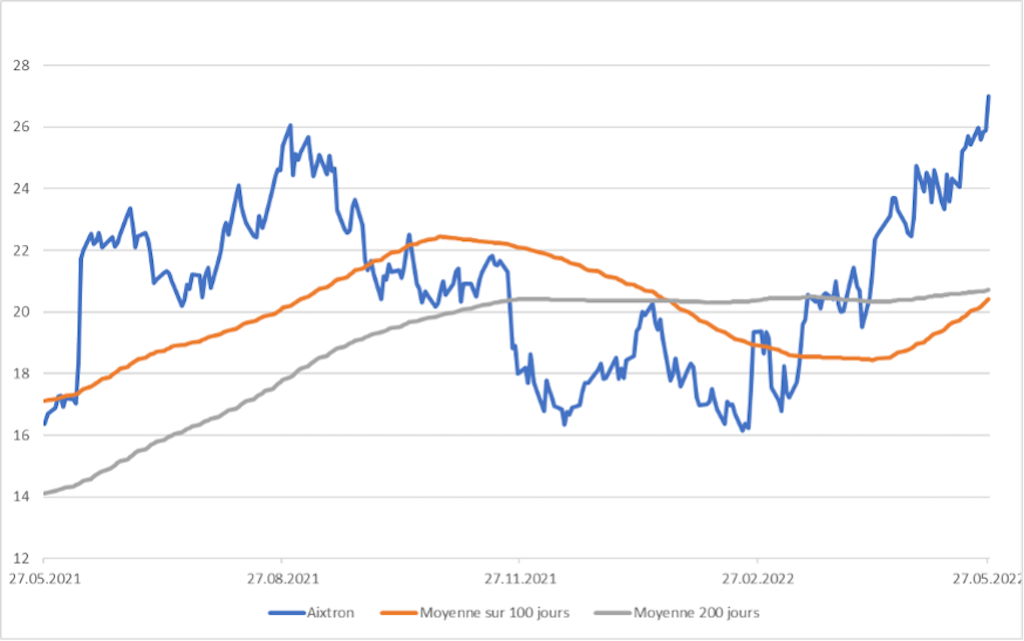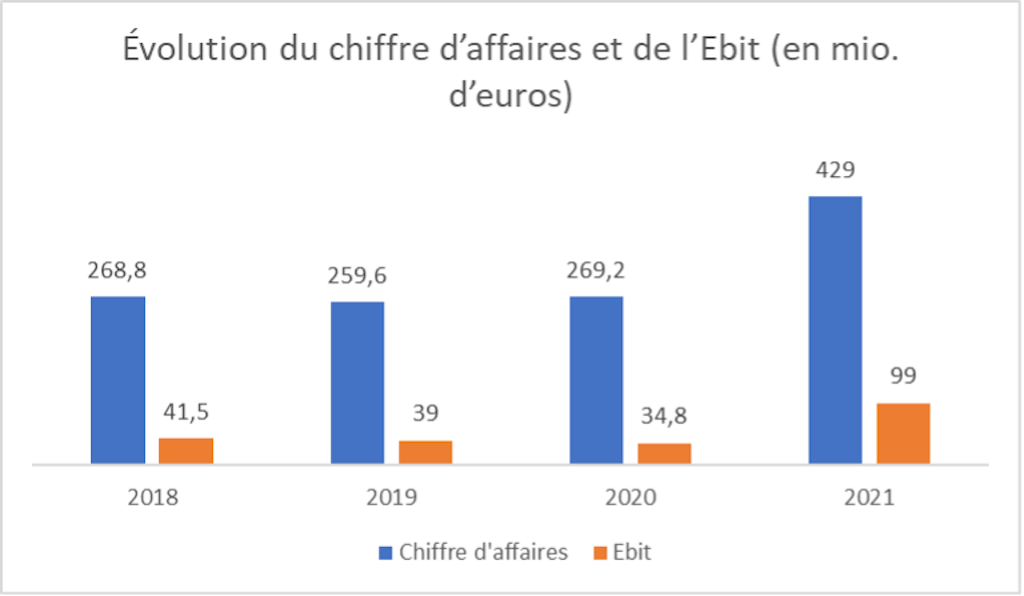 About Swiss DOTS
Swiss DOTS is the first Swiss over-the-counter trading platform for credit products. Aixtron is just one of 90,000 investment ideas that you can trade every day from 8:00 to 22:00 at a bargain price of 9 Swiss francs per transaction.